News & Gossip
Karanvir Bohra's Fans And Friends SLAMMED Makers And Salman For Unfairly Targeting Him On WKV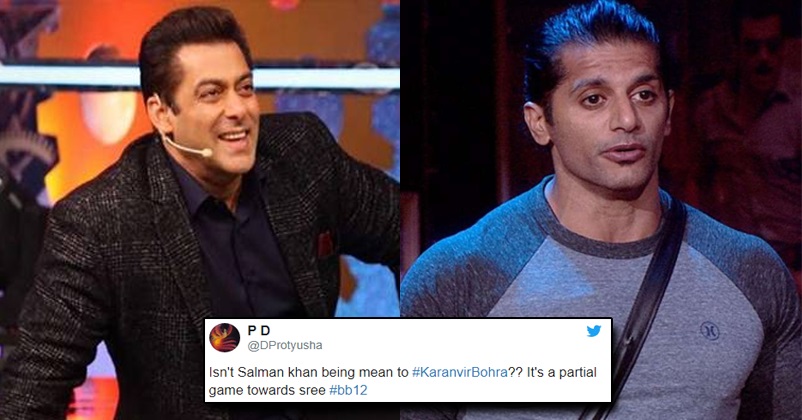 In the last Weekend Ka Vaar episode, Karanvir Bohra was one of the most talked about celebrities sadly for all the wrong reasons. Superstar host Salman Khan made fun of popular TV star a lot, which has not gone down well with his supporters and friends. TV stars like Simple Kaul and Nigaar Khan took to Twitter to support KV.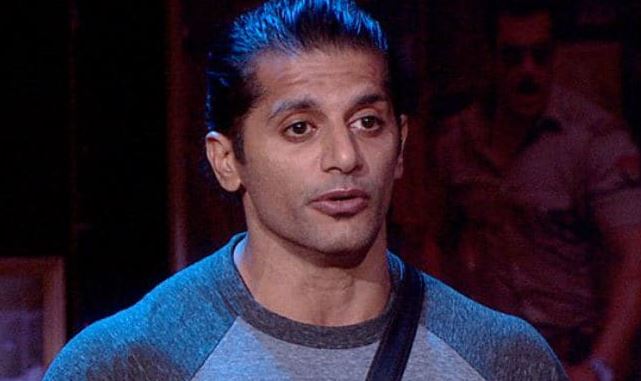 Extending her support, Simple Kaul tweeted,
"Salman Khan is so mean to @KVBohra  😡 and only him . donno why ??? Hated his nasty comment on fizz #BigBoss12"

Sister of former Bigg Boss contestant Gauahar Khan, Nigaar Khan also came out in support of KV and tweeted,
"Why is @KVBohra targeted for everything .. poor guy gets questioned for the tiniest things and is ridiculed .. #notfair @BiggBoss #BiggBoss12"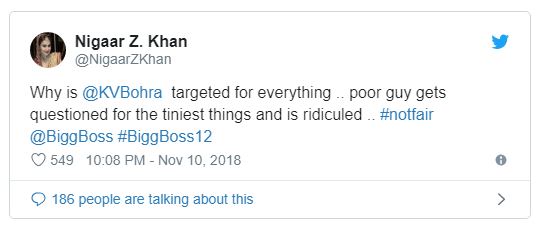 Not only celebrities but fans of Karanvir Bohra are mighty upset with the way KV is treated on the show. They believe that he is being unfairly targeted by Salman Khan. They took to Twitter to slam the makers and Salman Khan for always ridiculing Karanvir. Check out some of the reactions down below.
1
https://twitter.com/BeatS_786/status/1061670661918281728
2
We should plan a trend so that Salman gets this message. We have to speak up, he is getting ridiculed by Salman since day one. On clothes, hair, everything #BB12

— Mondler❤ (@mondlerfc) November 11, 2018
3
https://twitter.com/cool_aroon/status/1061659729888468992
4
https://twitter.com/vinita14659839/status/1061664717679210496
5
https://twitter.com/KannurKaruna/status/1061671060070756352
6
Har bar bigboss me channels favourite ko jitane ke liye ek bnde ko bura dikhna jaruri hai nd that person shld be frm celebrity side..pehle @bani_j then @eyehinakhan aur ab @KVBohra ..dipika ko unfair bolne se pehle @BeingSalmanKhan khud fair ho jae aur bigb khud dhyn se dekhe

— Dr.kiran kaur kamboj ✨ (@kiranamanpreet) November 11, 2018
7
Very true. it's sad that he is being body shamed and targeted in every episode. Looks like @BeingSalmanKhan taking some personal revenge

— Zohaib Turabi (@ZohaibTurabi) November 10, 2018
8
Even I feel that. Salman often ridicules him for his attire or his hair or something or the other. He always finds a way to pick on him. It feels bad. Best part of kv is that he just smiles it away.

— Storm April (@StormApril1) November 13, 2018
9
https://twitter.com/PR_Animesh10_/status/1062316794994614272
10
Yes it's fact. Why SK mum on Shreeshant behaviour. He abuses. Not fair. It has to be condemnable

— Syed Abdul Basit (@basitxlnc) November 13, 2018
Do you also think that Salman Khan targets Karanvir for no reasons? Tell us your thoughts in the comment section down below. Stay tuned for all the latest Bigg Boss 12 updates.