News & Gossip
Trending
Kangana Ranaut ' s sister Rangoli Chandel celebrates Gantryala as son Prithviraj Chandel turns 13 days old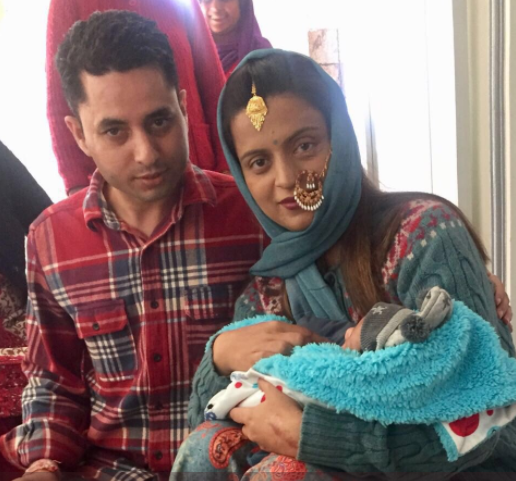 The famous Bollywood actress Kangana Ranaut's sister Rangoli Chandel is blessed with a baby boy in this month. She has shared this happy news on her social media saying, "Dear friends meet our son Prithvi Raj Chandel." Rangoli also shared a photo of the new-born and captioned it as, "My little munchkin!!!!"
Their son has turned 13 days now, Kangana's sister and brother in law Gantryala – a traditional ceremony to celebrate the birth of new-born baby. Rangoli has posted several pictures on the social media with the caption, "PritaviRaj turns 13 days, this occasion is celebrated in Himachal with Pooja, local food, and songs."
She wrote, "Gratitude , Happiness and celebrations in local style!!! Gantryala"
PrithviRaj turns 13 days, this occasion is celebrated in Himachal with Pooja, local food and songs 😊 same post wid #spellingcorrection 😕 pic.twitter.com/cubm3uQ9JA

— Rangoli Chandel (@Rangoli_A) November 27, 2017
It was reported that currently Kangana has become busy with the shoot of next film, Manikarnika: The Queen of Jhansi in Jodhpur. Soon she will be taking a break to visit the new-born nephew. An injured Kangana had returned to the city this week to improve her health.
Gratitude , Happiness and celebrations in local style !!! 😍😍😍 #Gantryala pic.twitter.com/5prMYccSY7

— Rangoli Chandel (@Rangoli_A) November 27, 2017
About her sister's pregnancy, Kangana said in an interview "We are very excited, she (Rangoli, Kangana's sister) had a terrible time before, as she had a miscarriage, she had a terrible time. But now she is very happy and very hormonal. So I ask her to not tweet please, but she keeps on tweeting very impulsive things, and I am like, can you please not do that? So, we are very happy, and the baby comes in November first week. We are looking forward to it."
It's called Gantryala !!! 😇 pic.twitter.com/9gYq8Ld05Y

— Rangoli Chandel (@Rangoli_A) November 27, 2017
What do you think about the same. Don't forget to share the articles with your friends. Stay tuned for more news.