News & Gossip
Kangana Ranaut's Honesty Costs Her Film With Sanjay Leela Bhansali & Shah Rukh Khan?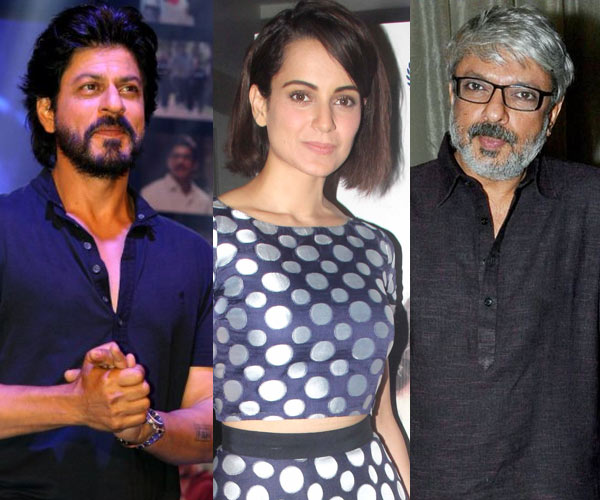 Kangana Ranaut who roasted the roast master with her 'dhamakedaar' episode with Saif Ali Khan on Koffee With Karan. Well, we really do love her frank demeanour and the way she went all guns blazing on Karan Johar, and his brand of nepotism. It sure was an episode to remember but we hope that it soon does not turn out to be a nightmare for her, professionally. Well, she very confidently said on Koffee With Karan that she would not like to work with any of the Khans because she is not in favour of heroines playing second fiddle to the actors on screen at all. And seems like this has cost her a role opposite the King of romance, Shah Rukh Khan!
Shah Rukh Khan and Kangana Ranaut were expected to come together for Sanjay Leela Bhansali's forthcoming film, but apparently, that won't be happening anymore! Rumours are abuzz that they will both work with the filmmaker but on different projects.  According to a report carried out by an entertainment portal, Shah Rukh Khan might have rejected the film starring Kangana. Reportedly, both the scripts were narrated to Kangana. However, he rejected the one in which Kangana was roped in as the female lead. SRK had earlier said,
"I have been in talks with Sanjay for two films. We will select the best one and make it."
Earlier, Kangana too had confirmed that SRK was in talks for the project she is starring in. She said,
"Sanjay sir just spoke to me about the film, saying that he wants to make it with me and Shah Rukh sir. But it's at a very premature stage. It's not that I am working with Shah Rukh sir tomorrow or something like that. So, yeah, like I said, it's at a very premature stage," she had told a news agency.
From Kangana's recent statement on Koffee With Karan, we infer that she remains unbothered about the whole incident. She was asked on the show as to who among the Khan trio she wanted to work with, and Kangana being as fiery as she is, was quick to say –
"None."
Has Kangana's statement on the show irked SRK, and that's the reason why he rejected the film? Or he just liked the script of the other film better? Only time will tell. We sure want to see Kangana Ranaut and Shah Rukh Khan sharing the screen space together. Official statements on the same are awaited.