News & Gossip
Kamal Haasan and Saif Ali Khan to act in 'Amar Hai'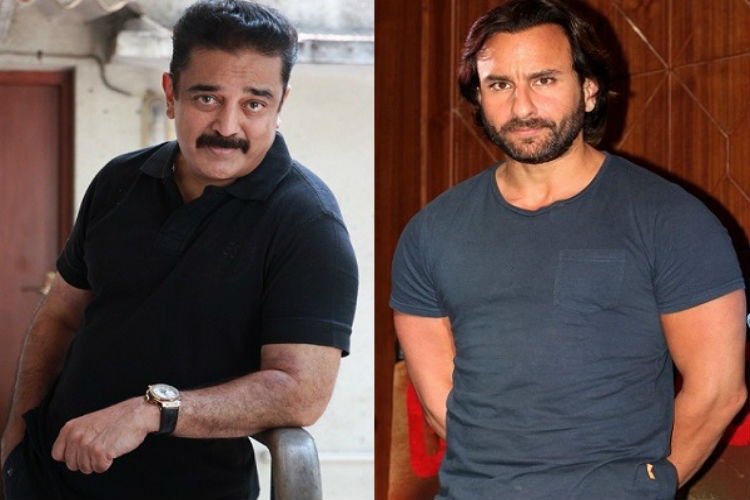 Tamil superstar Kamal Haasan is all set to make a return to Hindi cinema as a director and actor with political drama "Amar Hai", for which Saif Ali Khan has been approached to play the lead role. Penned by Haasan, "Amar Hai" revolves around political intrigue, finance and underworld.
The action thriller is being produced by Virendra K Arora and Arjun N Kapoor. It is a dream film for Haasan, who has been scripting the film from past six years and is keen to collaborate with Saif, who has already been clued in about his involvement on the mega project. Two actresses are set to join the ensemble cast. "My character though not that of a conventional antagonist, would present a point of view that is far from ordinary," the 60-year-old star said of his role.
The "Vishwaroopam" star's last Hindi directorial venture was critically-acclaimed "Hey Ram" in 2000, though he acted in a Bollywood film "Mumbai Xpress" in 2005. The producers said they were excited to work with Haasan, who has an enviable profile as an actor, director, writer and producer with hits like "Nayagan", "Sadma", "Ek Duuje Ke Liye", "Saagar", "Moondram Pirai", "Virumaandi", "Dasavathaaram", "Pushpaka Vimana", "Apoorva Raagangal" and " Chachi 420″.
"'Amar Hai' is special to us in many ways. One, it is that iconic project which is sure to mark the much-awaited Kamal Haasan working for Hindi cinema. Two, the film will see Kamal Hasaan wearing multiple hats, that of an actor, a director and a script writer," the producers said in a statement.
Primarily set in Mumbai and North India, the movie will also be shot in Delhi, London, Dubai, Jordan and parts of the US. "We are in talks with Saif Ali Khan to be the leading man of the film as it could be a sparkling combination of contemporary classic and a modern age to be visualised on the silver screen," the makers said.