News & Gossip
Kamal Haasan Fuels Outrage After Calling For Plebiscite In J&K, Issues Clarification Later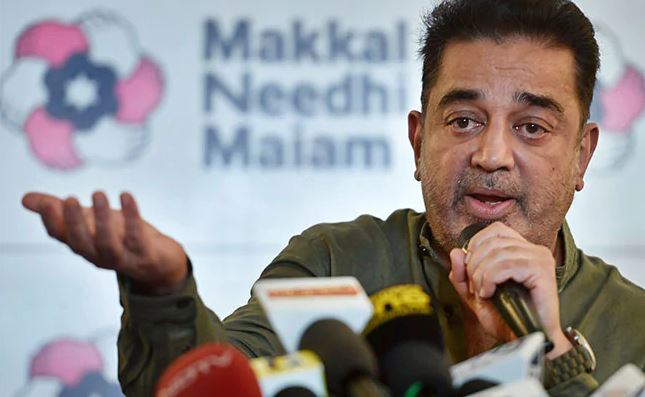 In the aftermath of deadly Pulwama Terror Attack, the entire nation has come out in support of the martyrs' soldiers and their families. Protests and candlelight marches are being held in almost all part of the nation. Almost everyone from all walks of life is protesting against Pakistan and doing whatever they can in support of the families of brave soldiers. Several people are demanding an immediate and befitting reply to Pakistan, whereas some of them believe that war is not the only option here.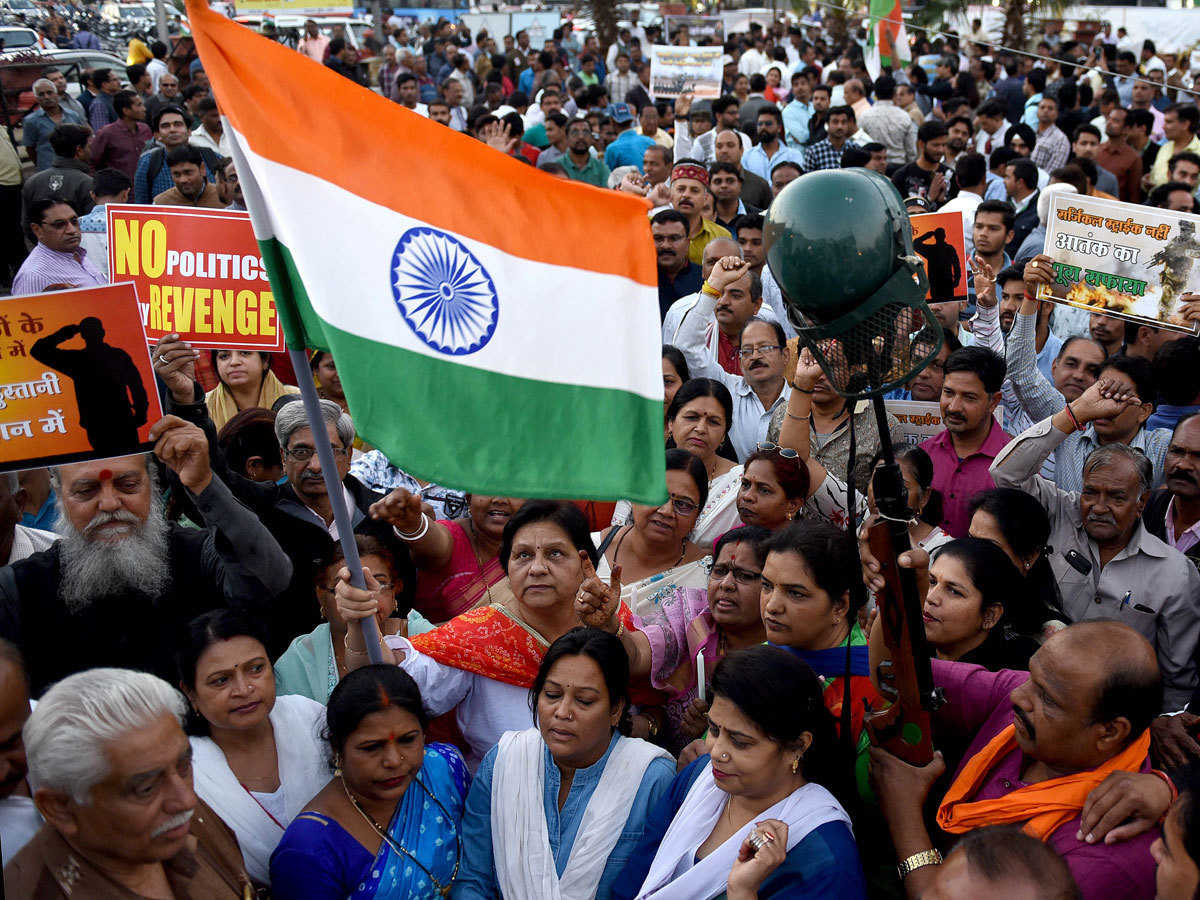 The Indian government has promised proportionate revenge on Pakistan giving free hands to armed forces to decide when and where to take the revenge. It is pretty much assured that the central government is in no mood to let Pakistan go this time. However, when and how this will happen is still unclear.
Amidst all this, actor turned politician Kamal Haasan has created a huge controversy with his recent statement. He has asked why the Indian government is not holding a plebiscite in Jammu and Kashmir. He even asked what the government was "afraid of". If that was not enough, he even went on to refer Pakistan Occupied Kashmir (POK) as Azad Kashmir.
He said,
"I truly regret when people say army men are going to Kashmir to die. The army itself is an old fashioned thing. Like how the world changed, How we decided that humans will not kill each other for food, likewise a time will come to stop fighting. Has the civilisation not learnt this in the past 10 years?"
He further added,
"When I was running a magazine called 'Maiyam' I have written about Kashmir issue and what is expected. I mourn this day because I forecasted that this is what will happen, unfortunately, I should have predicted something else. Hold plebiscite and make people talk…why have they not conducted it? What are they scared of? They want to divide the nation that's all. Why don't you ask them again? They won't do it? Now it (Kashmir) belongs to India, the same situation prevails across the border."
This Is How Netizens Reacted:
1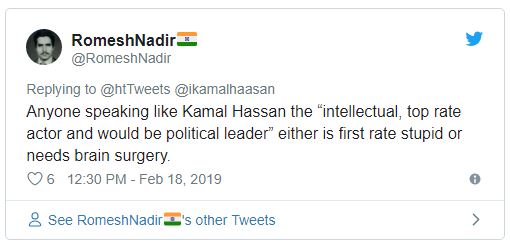 2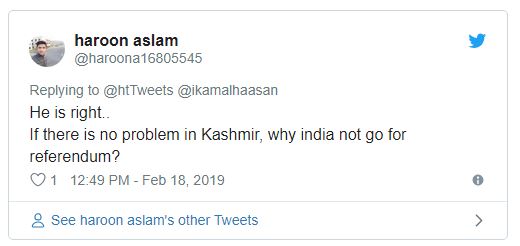 3

4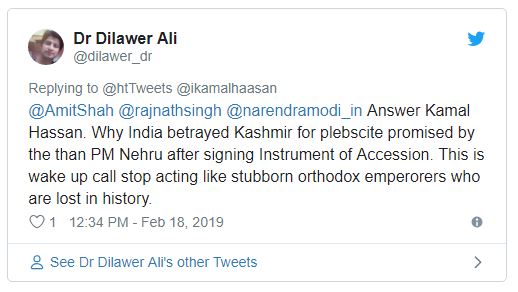 5
6

7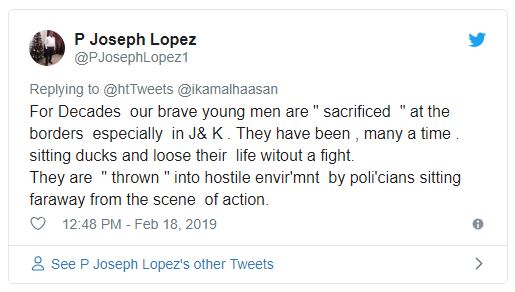 8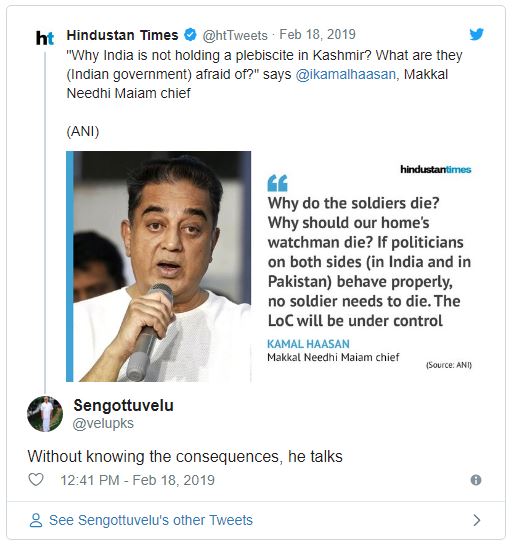 9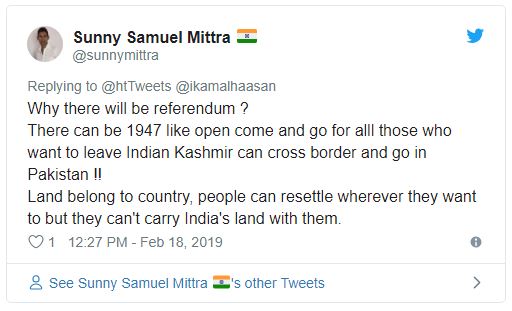 10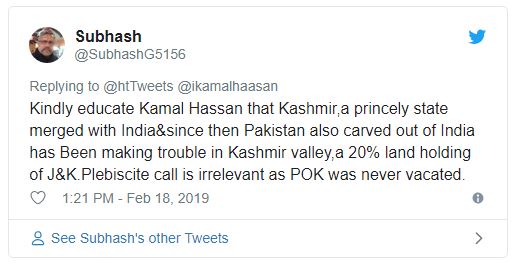 11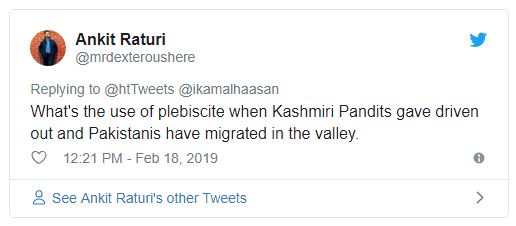 12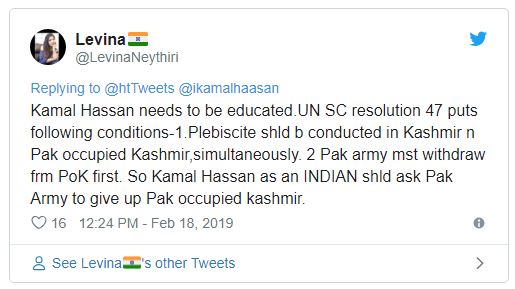 13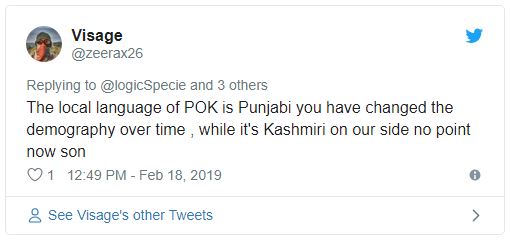 14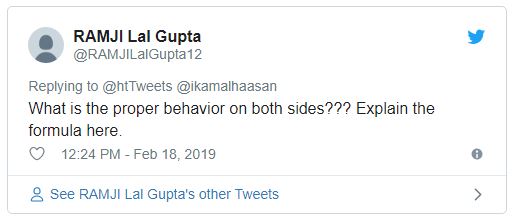 Amidst huge outrage, Kamal Haasan's party Makkal Needhi Maiam issued a statement saying his words were taken out of context.
Makkal Needhi Maiam statement on the report carried by Times Now.@TimesNow @RShivshankar pic.twitter.com/Q0J5YyJA4E

— Makkal Needhi Maiam | மக்கள் நீதி மய்யம் (@maiamofficial) February 18, 2019
Kamal Haasan launched his party in February 2018 and will contest the 2019 general election.