News & Gossip
Janhvi Says She Would Use Zomato To Find A Date, Check Out Zomato's Response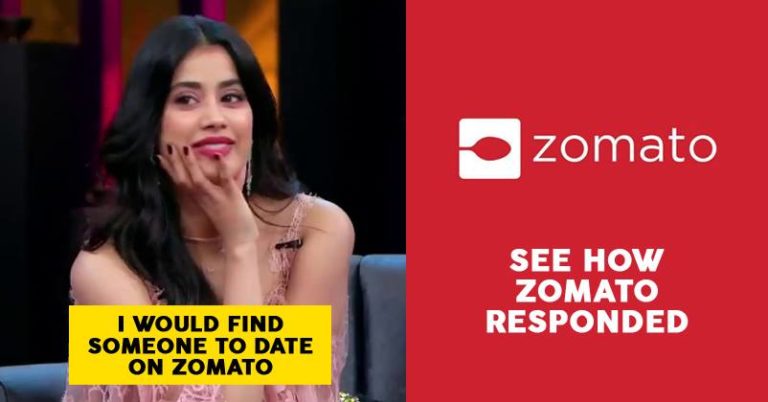 Koffee With Karan has been the popular most chat show in the nation and we absolutely how fabulous a host Karan Johar is to entertain and question the guests who arrive on his couch! With 5 seasons of the show being absolutely a big hit and beyond successful, here's the buzz reported that this season too was expected to be a hit and as expected, the season is going absolutely well with simply amazing combinations of Bollywood Stars coming together on the couch! One such combination was that of Arjun Kapoor and Janhvi Kapoor! On the show, Janhvi Kapoor said she would like to use Zomato to fix up a date and here's Zomato's response to it!
https://www.instagram.com/p/BooHT3KgEKQ/?utm_source=ig_embed
The episode was a fun episode with a lot many revelations being made by the brother sister duo! But the epic most part was when Karan Johar asked her that if she were to open an account on an online dating app, what would her bio be? Janhvi Kapoor spontaneously replied that she would write, "Cute but psycho". She later added that she would rather use the popular app, Zomato to find a date. When asked why, she replied that through Zomato, she could check out the restaurant and cuisine preferences of other people and decide accordingly. Because of course, you can't date a person who doesn't like the same food as you do, right?
To this statement made by Janhvi Kapoor on Koffee With Karan, here's Zomato's response which truly is absolutely on point and epic!
https://twitter.com/ZomatoIN/status/1066948413420261376?ref_src=twsrc%5Etfw%7Ctwcamp%5Etweetembed%7Ctwterm%5E1066948413420261376&ref_url=https%3A%2F%2Fwww.rvcj.com%2Fjanhvi-says-she-would-use-zomato-to-find-a-date-check-out-zomatos-response%2F
Absolutely Hilarious! Stay tuned with us at Filmymantra for more updates!