News & Gossip
Janhvi Kapoor's throwback photo with Anshula Kapoor from their first roller coaster ride is about crazy fun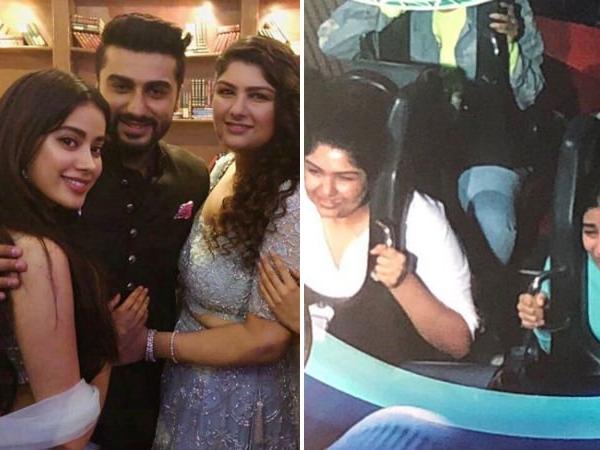 Koffee With Karan has been the popular most chat show in the nation and we absolutely how fabulous a host Karan Johar is to entertain and question the guests who arrive on his couch! With 5 seasons of the show being absolutely a big hit and beyond successful, here's the buzz reported that this season too was expected to be a hit and as expected, the season is going absolutely well with simply amazing combinations of Bollywood Stars coming together on the couch! One such combination was that of Arjun Kapoor and Janhvi Kapoor and Janhvi Kapoor and Arjun Kapoor both openly talked about the evolution of the bond between them as siblings post Sridevi's Demise! Janhvi Kapoor's throwback post with Anshula Kapoor after the episode is an epitome of crazy fun!
https://www.instagram.com/p/BooHT3KgEKQ/?utm_source=ig_embed
Recently, Janhvi shared a throwback photo of herself and Anshula from their first roller coaster ride. With a slightly blurred and grained image, the two sisters certainly look scared. In her post, she wrote, "#tbt to the first but clearly not the last roller coaster we'll be on together. I love you."
https://www.instagram.com/p/BqorlDvHKdz/?utm_source=ig_embed
On Koffee With Karan, Arjun Kapoor revealed how he just wanted to be there for his younger siblings Janhvi and Khushi after the demise of Sridevi. He said, "And I still remember it was 2 or 3 in the morning, she had no idea because it was late at night and I called her, the first thing she said was, "Where are the girls?"And at that point, I knew I gonna be there for Janhvi and Khushi to the best of my capacity. It was just, "Be there" because they will not know what is hitting them. Because it was going to be a storm. And it was a storm and they conducted themselves with utmost dignity."
https://www.instagram.com/p/Bkdb_3lhb5i/?utm_source=ig_embed
Stay tuned for more updates!