News & Gossip
India SLAPS 200 Percent Customs Duty On Goods Imported From Pakistan
The disastrous Pulwama terror attack cost India lives of 44 brave CRPF Jawans. The central government is taking strong actions against Pakistan. India soon withdrew the Most Favored Nation Status and now the government has raised the customs duty to 200 percent on all the products imported from Pakistan including cement, wool, spices, fresh fruits, mineral ore, and petroleum products among others.
Finance minister Arun Jaitley took to Twitter to announce the news, as he wrote, "India has withdrawn MFN status to Pakistan after the Pulwama incident. Upon withdrawal, basic customs duty on all goods exported from Pakistan to India has been raised to 200% with immediate effect."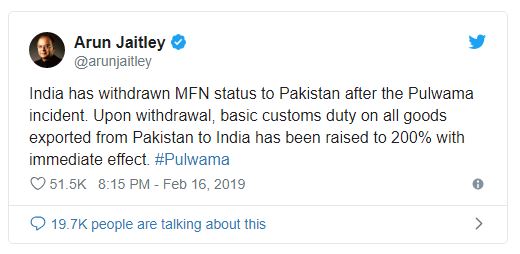 This new decision taken by the government will hit Pakistan where it hurts most. Their export to India that stands around Rs. 3,482.3 Crore in 2017-18 will suffer to a great extent. The import duty of 200 percent will increase prices of Pakistani product in Indian market massively. The Pakistan economy is already very in graves and it will make it even worse.
Pakistan Prime Minister Imran Khan has been on begging spree ever since he took the office. It was reported that Pakistani currency hit an all-time low to 144 rupees per dollar by the end of 2018. The value of Pakistani currency is declining by 10 rupees per day making the matter worse.