Our Capital city always hosts many exclusive events. To add to it, the city hosted the 13th Hindustan Times (HT) Leadership Summit. It was a two day event inaugurated by Prime Minister Narendra Modi. There were discussions with eminent personalities in politics such as Chief Minister of Uttar Pradesh Akhilesh Yadav and Minster of Human Resource Development Smriti Irani also the Bollywood stars, few political thinkers, cricketers have also taken part in HT leadership summit.
The Bollywood celebrities have also taken part in the summit. On the very first day writer –director Imtiaz Ali had a fun conversation with actors Kareena Kapoor Khan and Kangana Ranaut.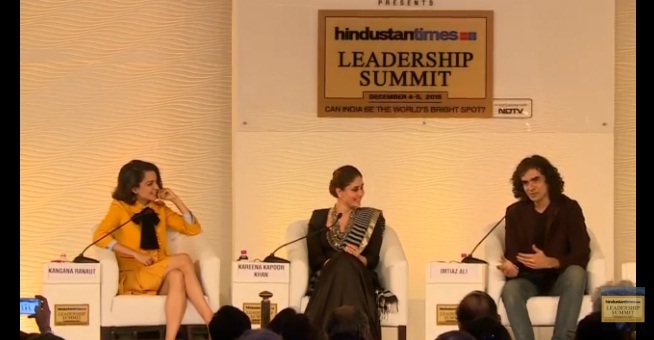 The Bollywood divas Kareena Kapoor Khan and Kangana Ranaut had a candid chat with Imtiaz Ali and the audiences about their personal and the professional lives. Both the actresses have proved themselves to be great as well as they maintain absolute fashionista status with their unique sense of style. Both the actresses were looking pretty, with Kangana in a bright yellow short outfit and Kareena who wore something of fusion saree in black look gorgeous. Lets have some glimpses of the candid conversation of actresses in HT leadership summit.
Imtiaz Ali who is writer cum director hosted the show efficiently. He is famous for his new age films Jab We Met (2007), Highway (2014) and the most recent film Tamasha (2015). He get into the candid conversation with the beautiful ladies and discuss how people often hold the misconception that actors lead extremely comfortable lives.
Kangana Ranaut, known for breaking stereotypes with strong female characters in her recent released Queen (2014) and Tanu Weds Manu Returns (2015), underlined that she had come a long way since 2006 when she had made her film debut.
Kangana revealed," Shootings are not really a pleasant experience. Either it's sweaty or very cold, or when you have to dive in a lake or die or jump off a building…. I really dreaded shooting with animals. I've shot with a horse but I hope I don't have to shoot with a snake!"  to this Kareena teased her saying,"I can see you doing a Nagin." Kangana replied," well, I can do a Nagin but I don't want a snake in front of me!"
Kangana even admitted that she gets into the skin of her characters and often feel empty once the camera is turned off.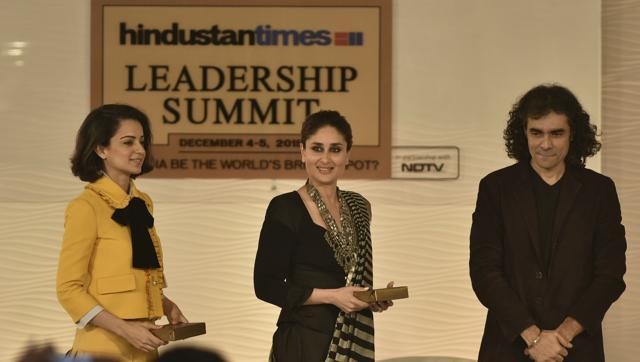 Kareena Kapoor Khan, who is well-known for her unbeatable performances in Chameli (2003), Omkara (2006) and director Ali's own film Jab We Met (2007), stated that she was more of a switch-on and switch-off performer. When Imtiaz quizzed her on how she is able to do that, she replied," I live in that moments for the character," she added," Every actor is different… I do understand what Kangana is saying."
However, both of them have agreed that shooting is far enjoyable experience for all the actors, often desiring the actors to step out of their comfort zones.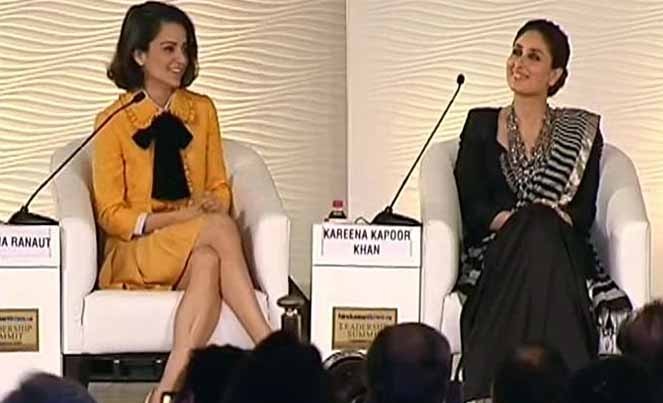 Kangana and Kareena praised each other during HT leadership summit. Kangana saying that she always admired Kareena's cheekbones and was awestruck! Kareena stated that Kangana is the actress she looks up to. "She is brilliant and she inspires me a lot!"
The floor was also open for the questions from the audiences who did not missed the opportunity to grill their favorite celebrities on everything from their role models to the wage-gap between male and female professionals in the film world.
During the two days of HT Leadership summit, global leaders have put their minds together in bringing out the best India can do. Politicians, political thinkers, cricketers, actors, doctors and spiritual leaders have a conversation on how India can become the world's bright spot.