News & Gossip
Hrithik Roshan shares a heartfelt post for his closest friend and ex-wife Sussanne Khan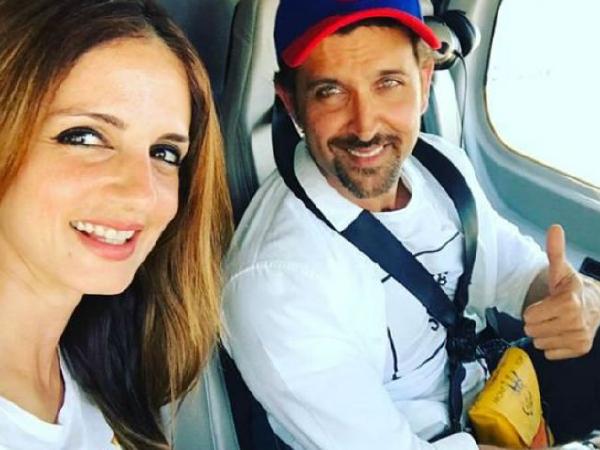 Hrithik Roshan and Sussanne Khan were believed to be one of the most ideal couple in the Bollywood Industry! To everybody's shock the duo announced their separation post 13 years of courtship and the two got divorced on 1st November, 2014 after an year long separation! Although, both of them have maintained cordial terms even after their divorce and here's Hrithik Roshan approving of it as he shares a beautiful heartfelt post for his closest friend and ex-wife Sussanne Khan!
https://www.instagram.com/p/BlbOghungUa/
Hrithik Roshan and Sussanne Khan are no more a couple but the duo continue to be amazing parents! Even after their divorce, we see Hrithik Roshan and Sussanne Khan bonding over movie dates, vacations and various other public appearances along with their boys! They are an example of mutual understanding and respect as the two continue to value each other like they earlier did and their social media accounts are a constant update about how much together even if not together Hrithik Roshan and Sussanne are!
https://www.instagram.com/p/BaLSVNfHTzv/
Recently Hrithik shared a picture of Sussanne Khan clicking his picture with their sons on a beach and captioned the picture with a beautiful heartfelt post for his ex-wife! The post read, "Here is Sussanne , my closest friend ( also my ex wife) capturing a moment with me and our boys.
.
A moment in itself.
.
It tells a story to our kids. That in a world separated by lines and ideas , it is still possible to be united. And that you can want different things as people and yet stay undivided.
.
Here's to a more united, tolerant, brave, open and loving world.
It all starts at home.
.
#beOpen #bebrave #artoflove #tolerance#courage #abundance#loveisgreaterthanfear #explorersforever#childrenarethefuture #harmony"
https://www.instagram.com/p/BqmfnSAHmAe/?utm_source=ig_embed
Rumours of their patch up make rounds! We wish they get back soon! Stay tuned for more updates!