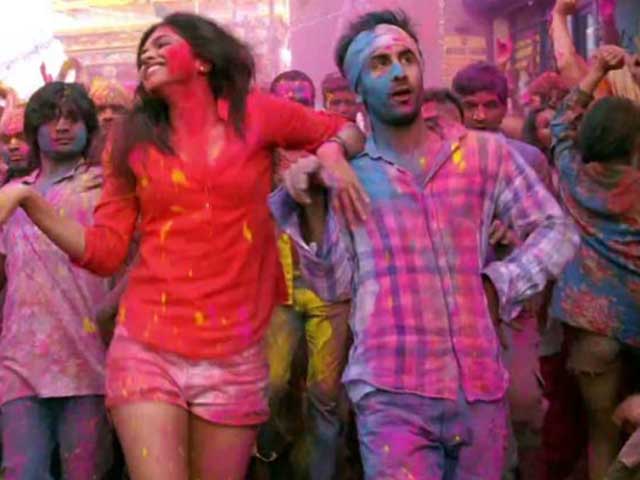 Holi Hai: 10 Songs To Put on Your Playlist
BOLLYWOOD HAS BEEN MAKING A SONG AND DANCE ABOUT HOLI PRETTY MUCH SINCE THE BEGINNING OF TIME. HERE ARE OUR 10 FAVOURITE SONGS FOR YOU TO SING, PICHKARIS AT THE READY.
Bollywood has been making a song and dance about Holi pretty much since the beginning of time. Here are our 10 favourite songs for you to sing,pichkaris at the ready.
Rang Barse from Silsila (1981)
The ultimate Holi song, sung by Amitabh Bachchan, Rang Barse is somewhat of an anthem and isn't just a treat to hear but also to watch, with a bhang-soaked Amitabh drenching screen (and rumoured real life) paramour Rekha under the increasingly disapproving gazes of his screen (and real life) wife Jaya Bachchan and Rekha's screen husband Sanjeev Kumar.
Holi Ke Din Dil Khil Jaate Hain from Sholay (1975)
This upbeat number precedes Gabbar Singh's attack on the village of Ramgarh, one of the film's most impactful scenes and plot points. Be that as it may, knowing that Gabbar's coming for the revelers doesn't stop us from humming along with Lata Mangeshkar and Kishore Kumar as Dharmendra and Hema Malini splash each other with colour.
Balam Pichkari from Yeh Jawaani Hai Deewaani (2013) Shy Deepika Padukone loses her glasses and her inhibitions in this peppy number, sung by Shalmali Kholgade and Vishal Dadlani. Ranbir Kapoor, Kalki Koechlin and Aditya Roy Kapur have a lot of fun as well, but not as much fun as Deepika.
Hori Khele Raghuveera from Baghban (2003)
What do you know, its Sholay co-stars Amitabh Bachchan and Hema Malini again, romancing each other this time. Sung by Alka Yagnik, Sukhwinder Singh, Udit Narayan and Big B himself, this one is a full on family affair.
Lahu Munh Lag Gaya from Goliyon Ki Rasleela Ram-Leela (2013)
Gulaal the colour of passion, eyes that do the talking, and one fiery kiss. This song, sung by Shail Hada, is made remarkable by the crackling chemistry between lead pair Deepika Padukone and Ranveer Singh.
Ang Se Ang Lagana from Darr (1993)
Dressed in pristine white Yash Chopra-style, Juhi Chawla, Sunny Deol, Tanvi Azmi and Anupam Kher play Holi with abandon, up until a creepy Shah Rukh Khan shows up to spoil the party. Sung by Alka Yagnik, Vinod Rathod and Sudesh Bhosle.
Phagun Aayo Re from Phagun (1973)
Waheeda Rehman sways gracefully to Lata Mangeshkar's tune as Dharmendra, who plays her husband, sneaks up on her with a pichkari. The song is a turning point in the film with Waheeda rounding on Dharmendra for spoling her silk sari with colour and Dharmendra then walking out on her
Nadiya Se Dariya from Namak Haraam (1973)
Kishore Kumar's voice makes this one of the most memorable Holi songs in Bollywood. A tipsy Rajesh Khanna tries to woo village belle Rekha under the influence of bhaang in this number.
Aaj Na Chhodenge Bas Humjoli from Kati Patang (1970)
This song, sung by Lata and Kishore, combines a social message with festive revelry. As Asha Parekh, dressed in widow's weeds watches the Holi play from afar bemoaning her inability to participate, a colour-smeared Rajesh Khanna exhorts her: "rehne do yeh bahana, kya karega zamana" (no excuses, what can the world do)
Holi Ayi Re Kanhai from Mother India (1957)
This one is an oldie but a goldie. Sung by Shamshad Begum, celebrations featuring Sunil Dutt and Rajendra Kumar and flashback of Nargis in happier times provided a moment of lightness and levity in the otherwise grim saga of the widowed mother and her two sons.