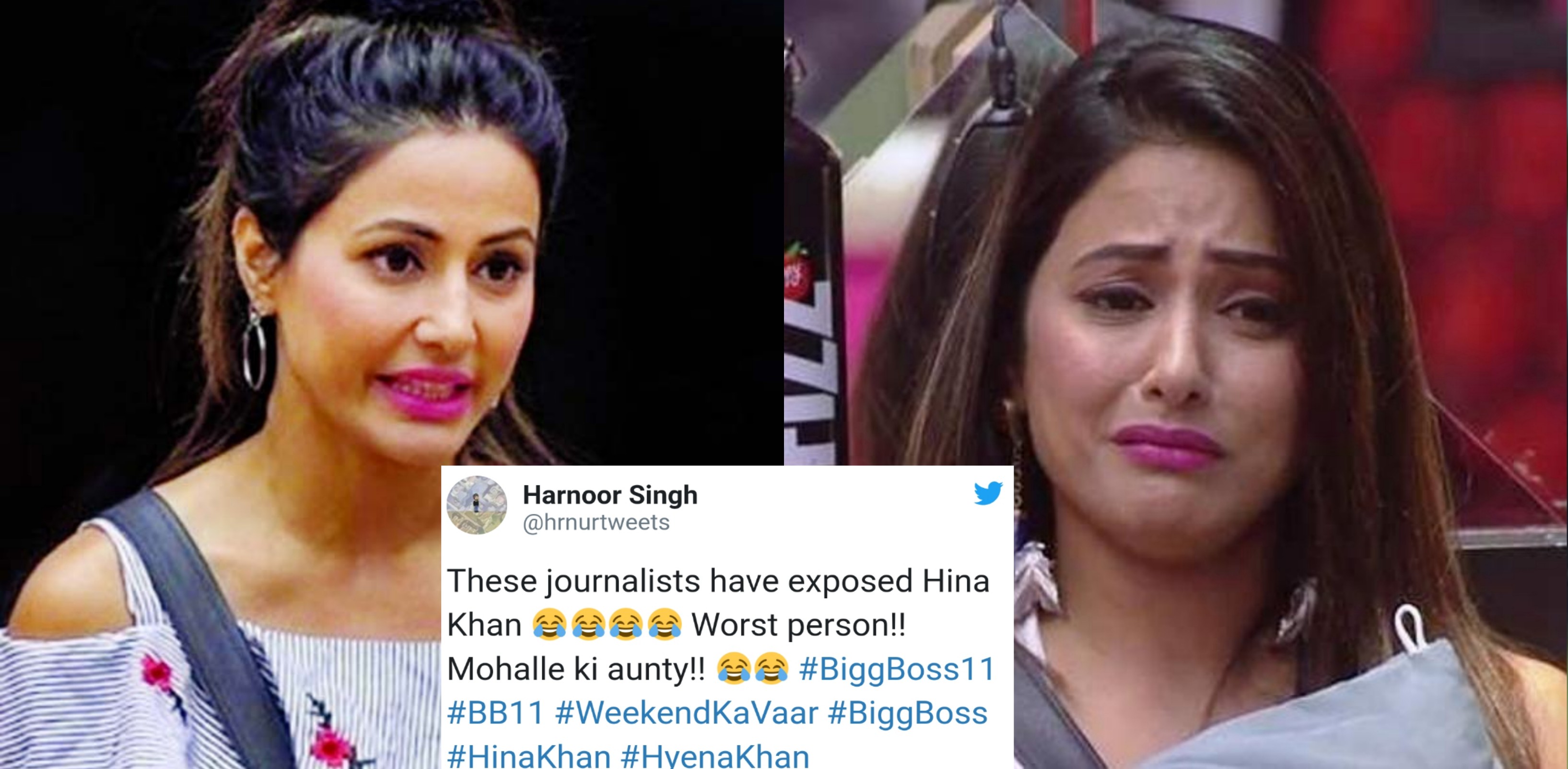 Hina Khan has lost all the good will she amassed with the show, Yeh Rishta Kya Kehlata Hai. Her true colours are coming out inside the Bigg Boss 11 house and people are quick to notice this. Fans have given her a new nick-name – Mohalle Ki Aunty. Read on to seem more comments…
It came as a surprise when contestants of Bigg Boss 11 found themselves midst media personnel at a press conference held inside the house. The contestants were greeted by the press who were waiting eagerly to interrogate them.
During the media interaction, one of the media person questions Hina Khan as to why she always tried to be the typical Indian 'Mohalle Ki Aunty'! While Hina didn't have any answer and couldn't stop laughing after listening to the comment, Twitterati had a blast calling Hina the same. Here are a few comments:
https://twitter.com/Himanii31/status/950443719781621760
https://twitter.com/SabinaLamba/status/950439844617924609
https://twitter.com/hrnurtweets/status/950423316946329600
#MohalleKiAunty Hina Khan has been thoroughly exposed. Your arrogance ruined you #HinaKhan. #BiggBoss11 #BB11

— BombayDude (@GaavWala) January 8, 2018
#BB11 A reporter called Hina "Mohalle ki Aunty" 😂😂😂
Hats Off 2 U Lady… Bang on👏👌
Hina was lyk ab main kya karun 😂😂😂😂😂😂😂😂😂😂

— Bhavna (@bhavna_gehani) January 8, 2018
https://twitter.com/Khanna2412/status/950425762732982273
I think Hina khan is suffering from short term memory loss when she said ki maine ye kbhi nhi kaha ki maine 8 saal tk kaam kiya h….#BB11 #MohalleKiAunty

— Ankur (@Ankur_ppt) January 8, 2018
Mohalle ki Aunty Kon " So called Miss Grace "#puneeshwonhearts pic.twitter.com/xyg02oKdH7

— Khalil Mustafa Awan (@KhalilAwan88) January 8, 2018
Hina surely has lost all the good will she had developed among the masses with her show Yeh Rishta Kya Kehlata Hai. Her true colour has come out in this season on Bigg Boss and fans are tearing her apart.
Coming back to the politics being done inside the Bigg Boss house, it seems that Hina, Vikas Gupta and Akash Dadlani have started ganging up against Shilpa Shinde.
The hygiene conscious Hina accused Shilpa of not maintaining cleanliness in the house recently, as Vikas added fuel to the fire by blaming her mentality for it. Standing up for herself, Shilpa took a stand and refused to cook for the two of them; as Hina and Vikas commented that Shilpa was showing her true colors only as the season comes to a close.
It was actually Hina who was showing her true colors from the start of the season. People were just blinded by her sober bahu avatar, and now they know that Hina isn't anything of that sort in real life.
What do you think folks – is Hina the true 'Mohalle Ki Aunty'? Share your thoughts in the 'Comments' section below.