Bigg Boss
Hina Khan Lied In Front Of Salman Khan, Here Is The Proof. Even Vindu Dara Singh Couldn't Control His Laughter!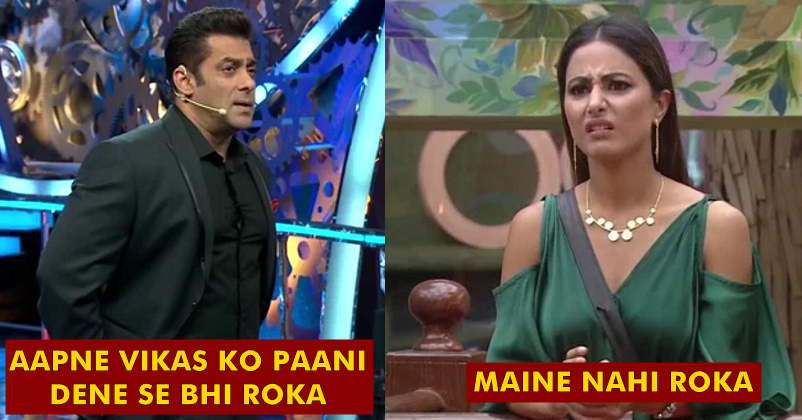 Now it would be safe to say that Hina Khan can lie at any time with 100 percent conviction. Bigg Boss 11 is not proving good for Hina, who has been caught manipulating and lying to other contestants on several occasions. Whenever Hina Khan gets into some mess, she lies in order to get away from the same. This time, she has crossed all the limit by lying in front of Salman Khan with a straight face.
This happened in last night's Weekend Ka Vaar episode of Bigg Boss 11. Superstar host Salman Khan grilled Puneesh Sharma and Hina Khan for their wrongdoings inside the house. Puneesh was bashed for throwing food and using foul language.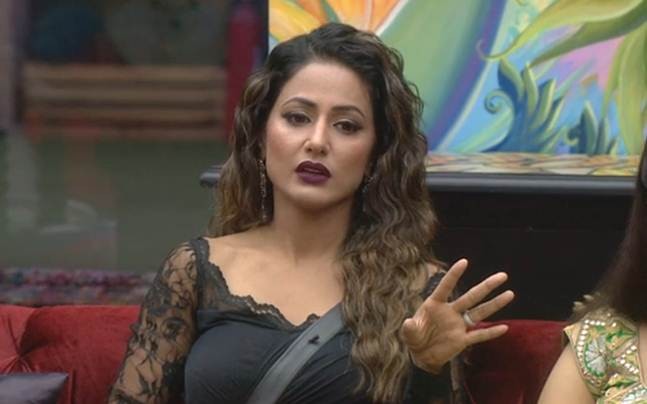 On the other hand, Salman also took the class of Hina Khan. He bashed Hina for her inhuman behavior in this week's luxury budget task.
You may remember that Hina Khan used Mirchi powder during the task. She even put Mirchi powder in Bandgi's eyes. It was so painful that Bandgi started crying and asking for water. But then, Hina Khan stopped Vikas from giving the water saying "she should first ring the bell and then she can have water."
However, when Hina Khan was asked about not letting Vikas give water to Bandgi Kalra, she outright denied it. Replying to the same, Hina said, "Maine mana kia? Maine toh mana nahi Kiya!" The statement shows how easily Hina Khan lies at any given time.
If you forget, watch this video. A Twitter user has shared a video as a proof.
Watch the video:
https://twitter.com/RealKruti101/status/937010727038083072
That was not all, the former Bigg Boss winner Vindu Dara Singh was also unable to control his laughter. He shared the video with laughing emoji. Check out what Vindu Dara Singh has to say about this whole event.
🤣🤣

— Vindu Dara Singh (@RealVinduSingh) December 2, 2017
HINA EK NUMBER KI JHOOTHI kahin Ki!
She never stopped the usage of MIRCHI! 😡
VIKAS stopped it and she still had a BOTTLE hidden near the bed!👎#BB11

— Vindu Dara Singh (@RealVinduSingh) December 2, 2017
Check out few more replies on Twitter:
https://twitter.com/menka_naik78/status/937013866529112064
Baba Ramdev please hina ko Shankpushpi de do. usko kuch yaad nahi rahta.

— विभु शर्मा (@VibhuSharma_) December 2, 2017
isko to schme award de hi do ab .. nai to pta nai aur kitne jhut bbolegi

— • » ѕнιℓρα gυρтα « • (@shilpagupta1002) December 2, 2017
Tell us your views in the comment section down below. Stay tuned for more Bigg Boss 11 news.