News & Gossip
Harbhajan Singh Asked Jadeja About How He Got "Sir" Title, This Is What He Replied!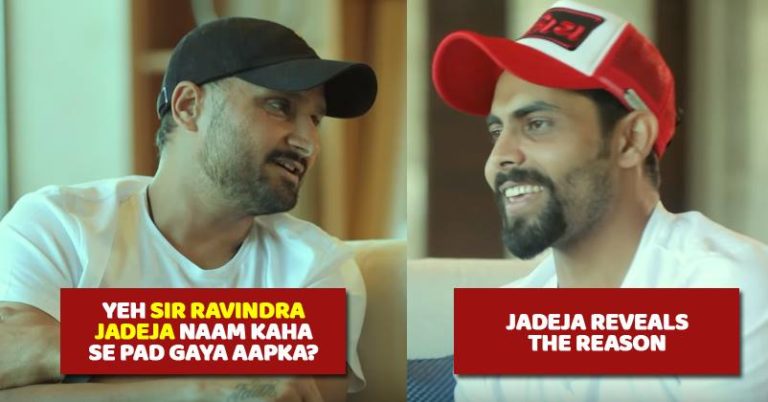 Ravindra Jadeja is popularly known as 'Sir Ravindra Jadeja' for a very long time. However, very little is known about how he got this "Sir" title at the first place. Many of us have wondered about the same, but never really got the answer, isn't it?
Now, ace spinner Harbhajan Singh has come to answers all of our questions, as he asked Jadeja about the same during a fun-chat with him.
Currently, Harbhajan is playing for CSK after playing for Mumbai Indians for 10 seasons, he was brought by CSK this year. He is hosting a show titled 'Quick Heal Bhajji Blast with CSK'. This time Ravindra Jadeja was the guest. When Bhajji asked him about "Sir" title, he revealed who gave him this title and the reason behind the same.
Ravindra Jadeja revealed that captain cool MS Dhoni gave him this name all of a sudden. He also added that there is no logic behind it.
Watch The Video:
Ravindra Jadeja got his title in 2013 when Jadeja won CSK a match in the last ball against RCB. In last over CSK needed 16 runs to win the match, which came down to 2 runs in 1 ball. In the last ball, Jadeja was caught, but umpire signalled a no-ball. Ultimately,  it was Jadeja who won CSK that match.
After that match, MSD started trolling Jadeja on Twitter with some Rajinikanth jokes. We bring to you some of those tweets.
1

2

3

4

That's epic, isn't it!
Finally, we know how Ravindra Jadeja became "Sir Ravindra Jadeja".
What do you think about Sir Jadeja? Tell us your thoughts in the comment section. Stay tuned to Filmymantra.com for more viral stories.