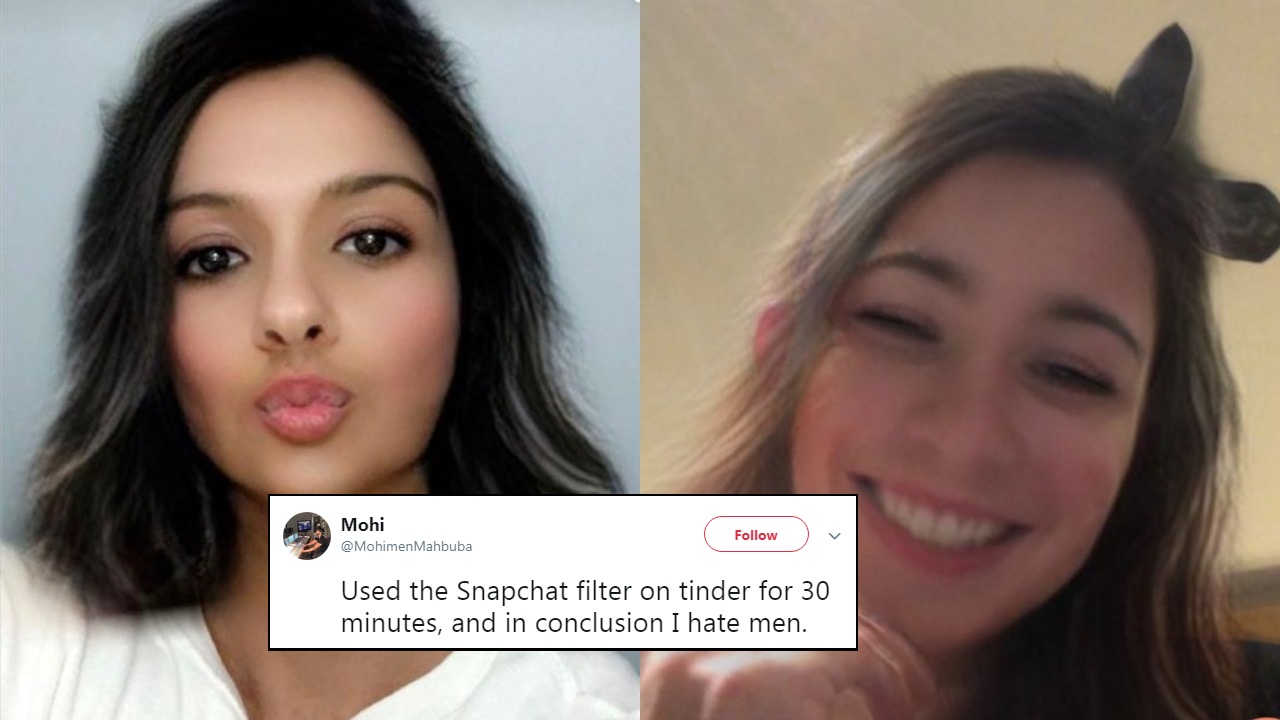 Social media is one of the best platforms to take your minds off. After all, it has so many things to refresh your minds. Snapchat which was launched in 2011 came to prominence only in 2014. Since then, Snapchat has been a go to social media platforms for its various amazing features like 24-hour stories and the filters. Snapchat offers several filters that allow users to take their pictures in a different way. One can find many pictures with the dog filter showing their tongues out.
However, the latest filter from Snapchat is a bit interesting, to say the least. The new Snapchat filter allows you to gender-sway. Yes, with this filter a guy can look like a girl and vice-versa. This filter is getting lots of attention from its users, who are using it for various reasons. Look at some of the selected people using this filter down below:
https://twitter.com/virg0boy/status/1126517345193742336
https://twitter.com/klephki/status/1126516854346919936
guys I'm dead Snapchat has a girl filter and I literally look like my sister hahahhh pic.twitter.com/OD4pcYQi4Q

— wallstreet phil (@PhilTheThrill12) May 9, 2019
https://twitter.com/cassidydayes/status/1126654532547694592
Snapchat just added a filter that turns you into a girl. This is almost too realistic I'm scared pic.twitter.com/tiWZOapdMS

— AttackingTucans (@Tyler_Sederwall) May 9, 2019
https://twitter.com/OMGItsBirdman/status/1126708391080910848
Lmaoooo why my girlfriend put on the guy filter on Snapchat and look like @Nadeshot pic.twitter.com/qN4py18V1J

— childish brandino (@BrandynPaine) May 12, 2019
Some of the men have found the weirdest use for this filter, as they use it to prank their girlfriends.
https://twitter.com/sashasmithhooke/status/1126595875772485632
Guy brutally pranks his girlfriend with new Snapchat filter… instantly regrets it https://t.co/E8pzPsGfPy pic.twitter.com/2c1Lm1w1rp

— UNILAD (@UNILAD) May 11, 2019
My girlfriend's jealous because her snapchat filter turned me into an Irish princess. I'm enamored, yet creeped out at the same time. pic.twitter.com/1Qg2IMegsg

— Tim Sheehy (@TimSheehy) May 12, 2019
Most of them are just looking to take pictures, whereas some of them even used on Tinder for dating. Some guys are using this filter to create a female profile on Tinder. However, boys learned pretty valuable lessons from it. From receiving s3xual messages to being flooded with messages, they are also facing the same issues. Some of the boys who posed as a girl on Tinder have shared their experience on Twitter.
My brother's using the snapchat filter to catfish guys on tinder and it's absolutely seen me off. HOW do these men think that is a real woman's face?? pic.twitter.com/h8JVE8u7bS

— jack grealish's headband (@Cans4Hans) May 12, 2019
Posing on Tinder using the girl snapchat filter and already been offered to travel around America with someone pic.twitter.com/84vbYZfZzP

— Jordan (@_jordanryann) May 11, 2019
https://twitter.com/MohimenMahbuba/status/1127391568980320256
So rather than going out, me & SJ decided to see how far Jess could go on tinder.. within an hour I was the most popular girl in Derby. pic.twitter.com/Mwgw8KjDdw

— Jake (@J_Askew) May 11, 2019
Life update:

I made a Tinder using that female Snapchat filter and holy fuck did I make a mistake. pic.twitter.com/nitAzDwxTV

— Garrett Mumford (@fuckgarrett) May 13, 2019
https://twitter.com/MoshWithTyler/status/1127668016857079808
I made a tinder for Ewald with the girl Snapchat filter and I guess a lot of guys thinks he's pretty attractive pic.twitter.com/4EmfDgy7dx

— jburny (@jburny99) May 12, 2019
The internet is a pretty weird place!