Specials
Gorgeous Actresses Who Are Chain Smokers And Addicted To Smoking!!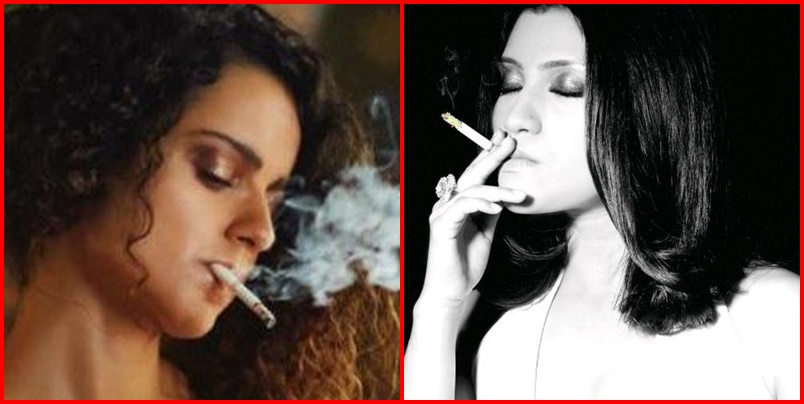 The Bollywood divas need no introduction in any work they do be it in reel life or in real life. The charming multi-talented actresses play numerous roles in films to create stardom. The actresses even had seen flaunting with Cigarettes and glass of drinks. It did look kind of a cool but what about the gorgeous divas who smoke in real life? Do you think these chain smokers of Bollywood are as simple and pure as they portray to be?
Well, yes there are some actresses who are chain smokers of Bollywood and they have literally thrown the smoking is injurious to health warning out of the windows and are adversely in need of a daily dose of nicotine. Here is a list of a few Bollywood actresses who are addicted to smoking, trying hard to quit the habit but are fruitless.
1. Sushmita Sen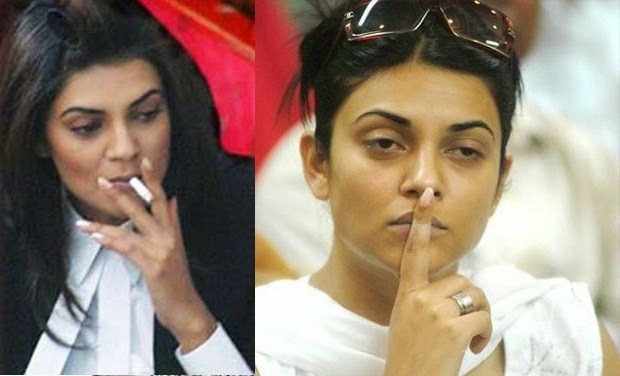 Surprised by reading the name of our Former Miss Universe Winner? Well, yes, Sushmita is chain smoker in real life. In short she is completely covered with the smoke of cigarettes all around herself day and night. She has been spotted smoking many a times in public. But because of her luck or you might say a God's Gift, none of the smoking effects can be seen on her gorgeous face. She claims to be trying hard to quit the habit, but her working stress doesn't allow her to quit the habit easily. She is perfect yoga practitioner due to which she still maintains the heavenly physique.
2. Kangana Ranaut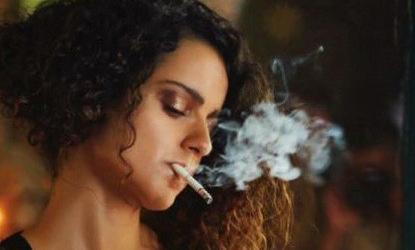 The Beautiful doe-eyed actress from scenic Himachal Pradesh, Kangana Ranaut is famous for her depressed roles in the movies like 'Fashion', 'Gangster', 'Tanu weds Manu'. In the films she played the troubled female protagonist and played a role of pipe smoker. But very few are aware that the actress herself is a chain smoker of Bollywood in real life. Kangana often reported to be puffing away between the shoots. In fact, Kangana even stood up openly against the ban on smoking at public places. She was none of the most free-spoken person from the industry, as she felt that the act of smoking is a very personal choice and should never be banned.
Bravo Sweetheart! We hope your lungs will hold up long enough to object the next ban on cigarettes in the Modi government!
3. Rani Mukherjee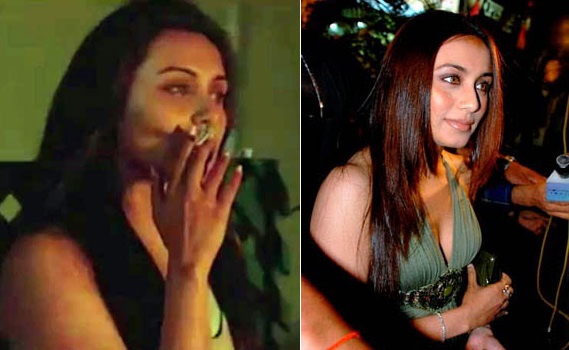 Mrs Aditya Chopra aka our favourite Rani Mukherjee is one such actress who neither you nor anybody on this planet would believe is a chain smoker. It is said that the actress could not start her day with a cigarette in her hand. OMG! It is also said that her habit has been the cause of disputes between her parents and the actress. She has tried several times to inhibit her habit. However, she find very difficult to quit her smoking habit. In an interview once she said she needs to smoke at least one cigarette every day in the morning as it helps her with good digestion. Are you joking Rani, Cigarette for good Digestion? OMG! We wonder what Chopra clan has to say about this.
4. Konkana Sen Sharma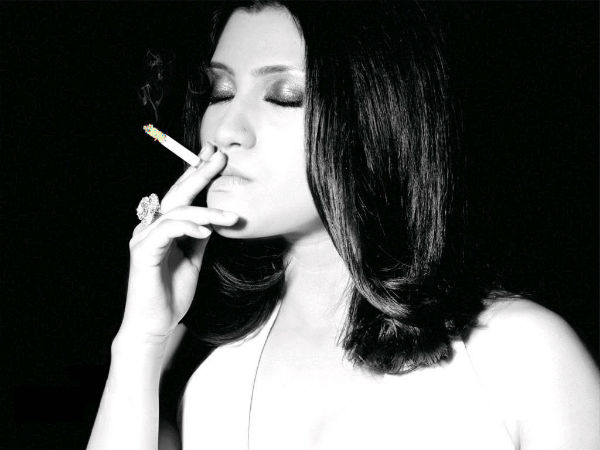 It looks like all the Bollywood divas have something special for smoking. It seems like smoking is becoming like a trend these days. Well, a mother of kid and wife of Ranvir Shorey, Konkana Sen Sharma is also one of the chain smokers of Bollywood. She was quoted saying she found very difficult to quit smoking during her first pregnancy. "The pregnancy meant a complete change in lifestyle. I used to be a smoker, overnight I couldn't smoke or drink at all," she stated in an interview. However, after her first child was born, she resumed her smoking habit once again.
5. Tanishaa Mukherjee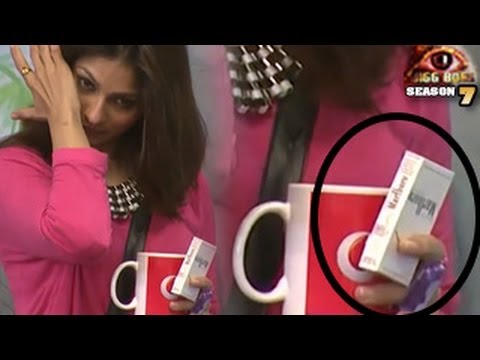 Tanishaa, better known as Kajol's sister was one of the contestants in Bigg Boss 7. In the complete series of episodes she had been seen flaunting a cigarette packet. Her relations with the other house members had seen affected when she started openly flaunting cigarettes in front of the 84 cameras in the Bigg Boss house all just to create a tom-boy image. Even she broke the rules of house, not caring a damn of what Sallu Bhaijan has to say. Well, the actress is having a pretty much of attitude and is much addicted to smoking and can't even go a single day without puffing.
6. Manisha Koirala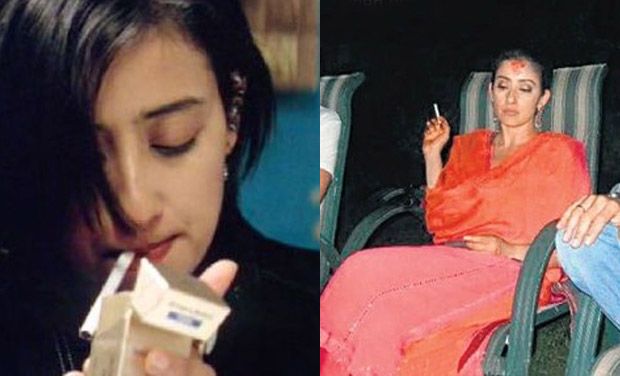 The gorgeous Nepalese beauty, Manisha Koirala was strongly addicted to smoking so badly that she does not have any control on her habit and even she smokes frequently on the sets. The lady has been diagnosed with ovarian cancer, but that too doesn't stop her from quitting the cancer stick. Indeed a chain smoker of Bollywood, she was spotted by the paparazzi sitting with a lighted cigarette on her wedding day. Well, the picture has gone viral on the social media and was seen by lakhs of the actress fans. After all, in India not everyone is permitted to take a puff with sindoor on their forehead.
7. Tanuja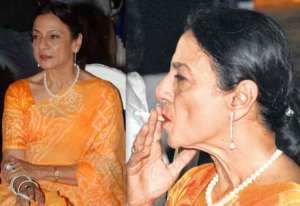 The bubbly actress of yesteryear has shocked everyone in Bollywood when she was found taking a puff in an event which was a charity event held for children. Seriously, the actors at least should keep a sense of where they are smoking. Not many are going to care that she is smoking but at a charity event with kids around would certainly made a bad impact on the innocent minds. The actress too has tried hard in quitting her smoking habit but failed as she is not able to function anything without her daily dose of nicotine.
There are many in our society who blindly copy Bollywood celebrities, but what do you think about our divas who portray the role of "perfect woman", "perfect Bahu", "Perfect Beti" on screen and have such egregious flaws in their real life? The matter needs to think twice, Indeed!