News & Gossip
Gauahar Khan SLAMMED A User Who Asked Airtel For Hindu Representative In Place of Muslim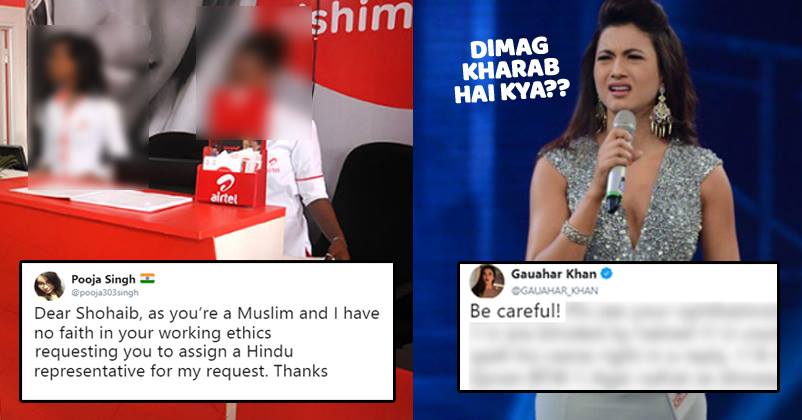 India is a big country and known for its secular beliefs. People of every religion live together happily, which makes our country best in the world. However, some random instances put a bad name.
A similar incident happened just recently with popular telecom company Bharti Airtel. A customer named Pooja Singh complained to Airtel about the issues she was facing with her network. However, she was attended by Muslim customer care representative named "Shoaib".
He did his job perfectly and politely, as he listened to her problems. However, she left a rather shocking reply on Twitter. She even asked Airtel to assign a Hindu representative.
Pooja tweeted, "@airtelindia pathetic Airtel DTH customer service.I raised complaint for reinstallation of DHT.but assigned service engineer miss behaved with me. His words are "Tum Phone Rakho Dobara call mt krna " his number is+91 79-85195094. This is how Airtel is looting it's customer."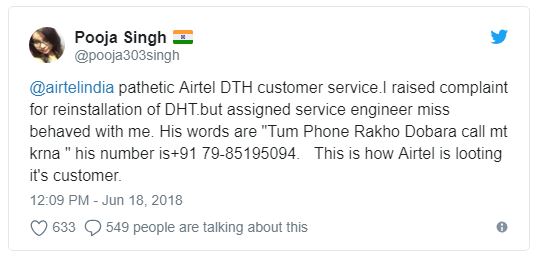 She got a perfect and professional reply from Airtel representative Shoaib, who replied, "Hey, I most definitely appreciate you reaching out here! We'll take a closer look into that & get back shortly with more information. Thank you, Shoaib"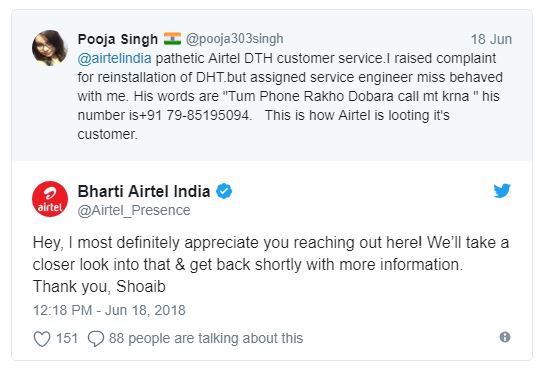 However, after seeing his name, Pooja asked for a Hindu representative by tweeting, "Dear Shohaib, as you're a Muslim and I have no faith in your working ethics because Kuran may have different version for customer service, thus requesting you to assign a Hindu representative for my request. Thanks"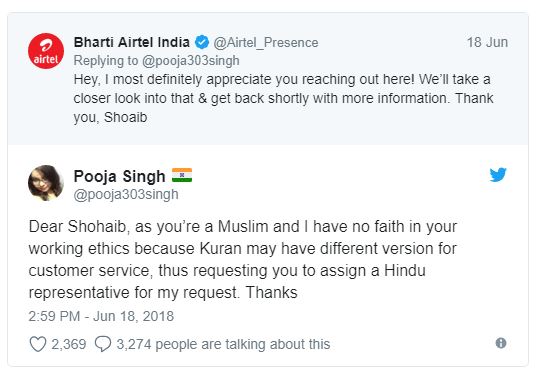 Instead of ignoring her, Bharti Airtel gave her a Hindu representative who replied, "Hi Pooja! As discussed, please let me know what days & time frames work best for you so we can talk. Further, please share an alternate number so that I can assist you further with this. Thank you, Gaganjot"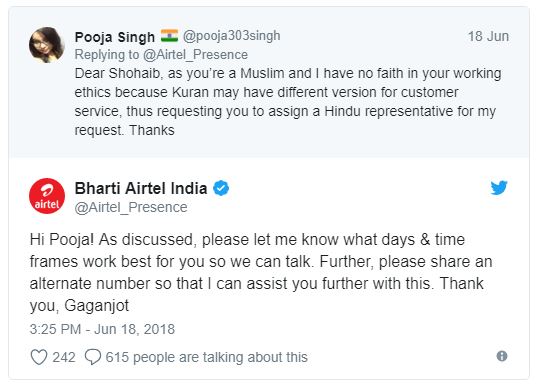 This thread created a huge uproar on social media and people started slamming both the woman and Airtel.
After getting lots of criticism, Airtel replied, "Dear Pooja, at Airtel, we absolutely do not differentiate between customers, employees and partners on the basis of caste or religion. We would urge you to do the same. Both Shoaib and Gaganjot are part of our customer resolution team."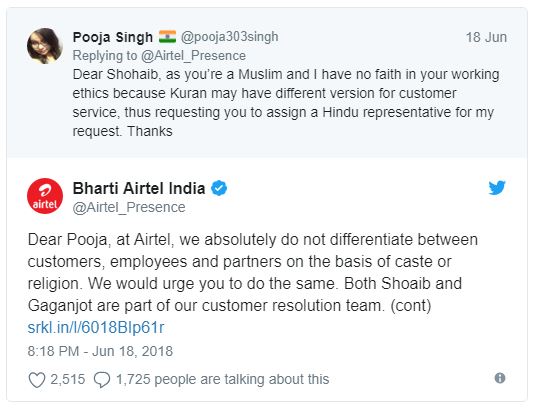 Former Bigg Boss winner, Gauahar Khan also slammed that woman and tweeted, "Be careful! Pls see your ophthalmologist soon !! U are blinded by hatred !!! U couldn't even spell his name right in a reply, !! N it's the Quran BTW !! Agar nafrat se dimaag nahi kharaab hua hota toh shayad education mein basic spellings toh pata hi hoti!! 😡😠"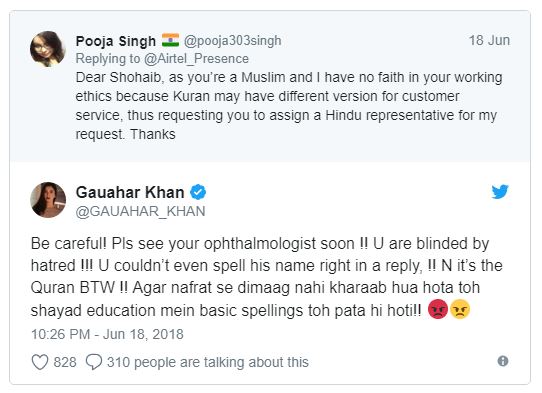 What do you think of the same? Tell us your thoughts in the comment section down below.