News & Gossip
The Best Memes From Episode 2 Of Game Of Thrones ' Season 8
The second episode of Game of Thrones has finally arrived, and with that arrived a blitz of hilarious memes that have taken over the internet.
The union of Arys with Jon Snow and it had some mind blowing revelations about Jon Snow's parents and reunion of Jamie Lannister and Brienne of Tarth's reunion.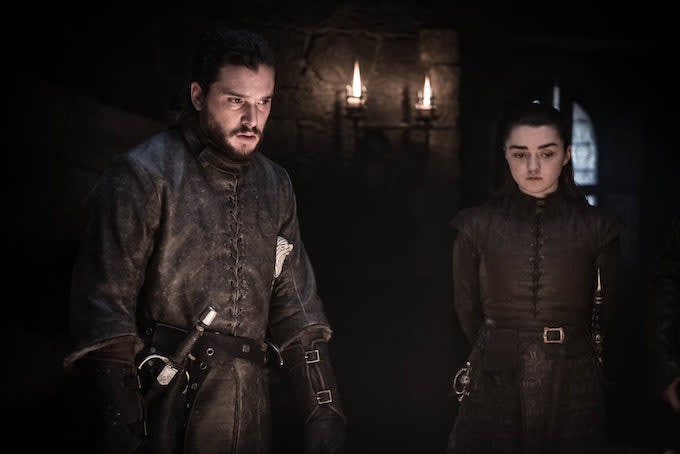 In today's episode is the return of snow, Jon Snow's direwolf and the heated love making of Arya Stark with Gendry. Bran Stark in Winterfell to the cold glances that Sansa and Daenerys share, Twitter is a meme-fest when it comes to GOT. The most shocking scene unfolded when Jon Snow told Daenerys about his parents.
Fans of 'Game Of Thrones' spare none and they were quick to come up with theories for the next episode.
Twitter is also swarming with hilarious memes about today's episode.
Daenerys after Jon Snow told her his real name #GameofThrones pic.twitter.com/MirsHqCmEZ

— (50 – 44) (@gabriel67th) April 22, 2019
When Ghost appears on screen for .2 seconds just to bless us. #GameofThrones pic.twitter.com/uz0ZXA5WdL

— Justin Harenchar (@justinharenchar) April 22, 2019
Arya: "I'm not the red woman, take off your pants"

Everyone:#gameofthrones pic.twitter.com/n7cjaoYmQH

— Raul G (@Blackfia2) April 22, 2019
Us finally watching Arya and Gendry get together #GameofThronespic.twitter.com/wmdtjE06SL

— Teddy (@_yoTeddy) April 22, 2019
Sansa: what about the north?

Daenerys : #gameofthrones pic.twitter.com/JrBuAyxZo5

— Jam (@Jamilo3_) April 22, 2019