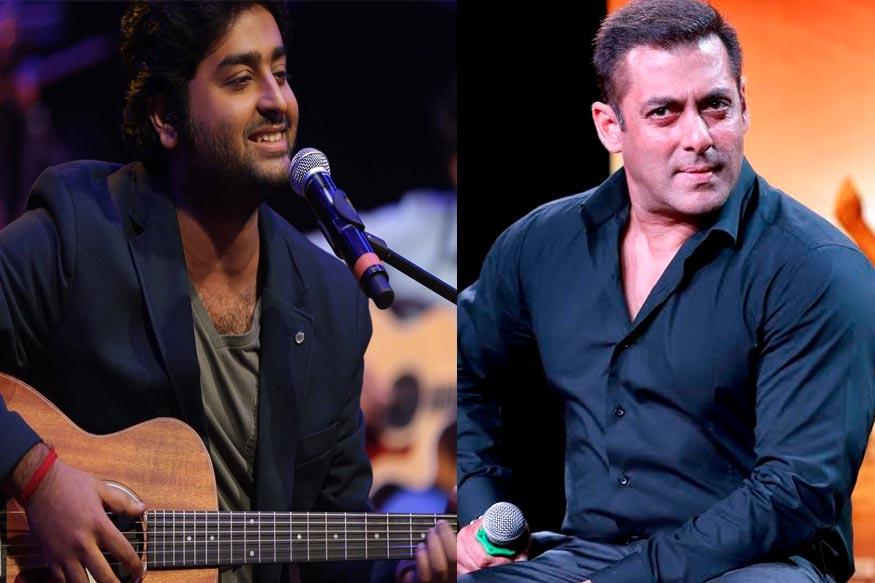 Finally! Salman Khan Forgives Arijit Singh
Well, you couldn't believe in this news, than read it till the last. As this is one of the unexpected things has happened when Salman Khan finally accepted the apology from Arijit Singh. Arijit Singh is the name to reckon in Bollywood, but one thing that he will always feel bad is about hurting Salman Khan in one of the Awards events. At latest, we witnessed that Salman Khan forgives him finally at Star Dust Awards.
Also Read :- Arijit Singh Retiring Next Year?!
Those who don't know much about their fallout, it has actually dated back to 2014. In the Star Guild Awards of 2014, Arijit Singh went on the stage in a sleepy mood for receiving an award. When Salman Khan asked him the reason why he is so sleepy, he mistakenly said it's because of him. In return, Salman Khan mocked him and saying its because of Tum Hi Ho people got snoozing. Well, he released his mistake at that moment and said sorry but it was too late than. In Kick movie, Arijit crooned his song but it was later being replaced by Mohammed Irfan. He even sang a number for Salman Khan's Sultan but again it was being replaced by Rahat Fateh Ali Khan.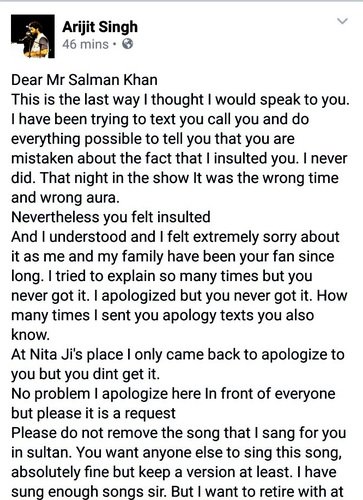 Amidst all these troubles, Arijit Singh even written an apology letter on social media for Salman Khan. After that, Arijit also says that he will even go to meet Salman Khan at his home to seek apology. Well, things remained the same for over three years but it looks like Salman forgives him. At latest Star Dust Awards, Arijit Singh was seen singing Channa Mereya song at the stage. While singing the song, Arijit came a bit closer to the edge of the stage, where Salman was sitting and bowed his head. In reply, Salman Khan smiled and nodded his head in reciprocation. Well after seeing this, all the front seaters were happy and surprised
Anyways, this has finally ended and now Arijit Singh must be the happiest man on the planet Earth. interestingly, Arijit Singh's Channa Mereya is actually one of the popular song from Ae Dil Hai Mushkil.
Overall, it looks like things are finally settled between the two and let's see when Arijit got a chance to sing for Salman Khan.
What are your thoughts about Salman Khan and Arijit Singh controversy? do let us know in the comments section below.