News & Gossip
Finally! Ajay Devgn Reacts About Karan Johar's Shocking Statements On Kajol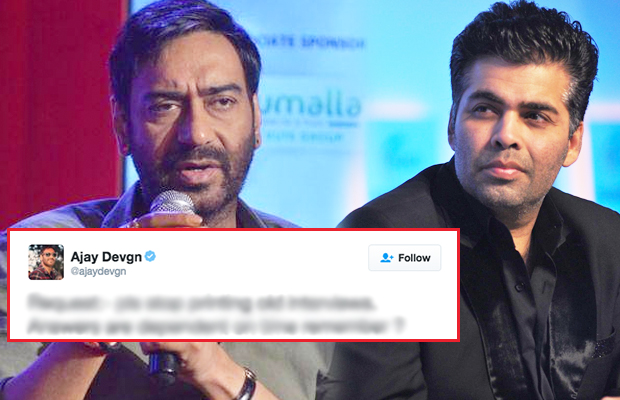 Kajol and Karan Johar friendship known to the world since the days of Kuch Kuch Hota Hai. They have worked together in films like Kabhi Khushi Kabhi Gham, My Name Is Khan and a cameo role in Student of the Year. They had a friendship of over 25 years but looks like their longterm friendship is on the toss. At latest, Ajay Devgn even reacted on this burning issue between Karan Johar and Kajol.
Karan Johar in his book An Unsuitable Boy has written a lot of things about Kajol. He said, 
Things were said, crazy accusations were made against me, that I had bribed someone to sabotage her husband's (Ajay Devgn) film. I can't even say that I was hurt or pained by it. I just wanted to blank it out. When she reacted to the whole situation and put out a tweet saying, 'Shocked!' that's when I knew it was completely over for me. I wouldn't like to give a piece of myself to her at all because she's killed every bit of emotion I had for her for twenty-five years. I don't think she deserves me. I feel nothing for her anymore.
This is not all, Karan Johar also goes on to say,
"I don't even want to speak about her husband because that's inconsequential to my life now. He doesn't matter to me, he never did. I still don't want to say anything about her husband because I want to respect the history she and I shared."
When Ajay Devgn got a hold of this news, he didn't remained silent. He posted to twitter that, "Request:- pls stop printing old interviews. Answers are dependent on time remember?"
We know that Karan Johar's Ae Dil Hai Mushkil and Ajay Devgn's Shivaay released on last Diwali and there were many controversies revolved around the makers. Even it was heard that things are not good between Ajay and Karan but none of them confirmed it. During the Shivaay promotions, Ajay once said,
"We have our issues and that's strictly personal, and nothing professional. Those are personal issues and I don't want to talk about it."
Overall, Karan Johar has broken all bonds with Kajol and even Ajay is in no mood to sort out the matter!
What are your thoughts about Ajay Devgn's reaction over Karan-Kajol tiff? do let us know in the comments section below.