News & Gossip
Farhan Akhtar at United Nations Meet: Need New Meaning of Masculinity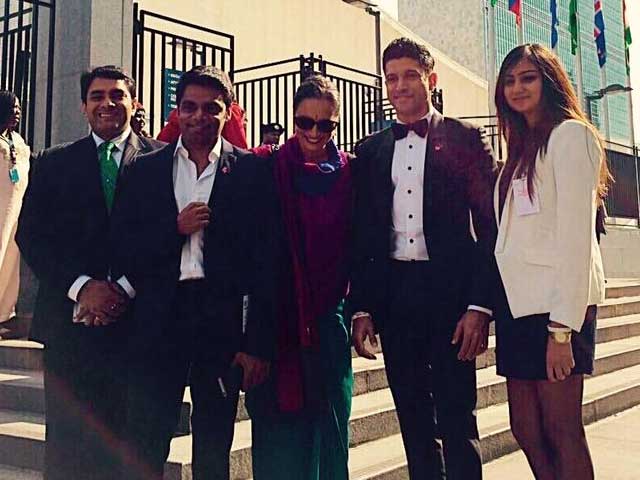 Farhan Akhtar at United Nations Meet: Need New Meaning of Masculinity
"IT IS OUR PROBLEM TOO, NOT BECAUSE WE HAVE MOTHERS, SISTERS, WIVES AND DAUGHTERS. IT IS OUR PROBLEM BECAUSE IT IS A HUMAN RIGHTS ISSUE AND WE ARE ALL HUMAN BEINGS," HE SAID
Filmmaker-actor Farhan Akhtar said that the concept of masculinity must be redefined for men to end violence and discrimination against women and called for a change in mindsets across "all demographics of society". (Also Read: Farhan Akhtar Performs at UN Concert on Women's Empowerment)
"I truly believe that men have as important a role to play in this quest for a world without gender violence and discrimination as women do," said Farhan, a Goodwill Ambassador for UN Women.
"It is our problem too, not because we have mothers, sisters, wives and daughters. It is our problem because it is a human rights issue and we are all human beings," he said at a panel discussion on how to end violence against women here yesterday.
"Nobody has the right to treat a human being differently than they would like to be treated themselves," he said.
The filmmaker-actor, who was among a handful of men attending the session, said that while strong, deterrent laws and swift justice can accomplish a great deal, it is not enough to achieve absolute end to gender violence.
"Society has to change because it is society that breaks the laws. There has to be a cultural change, a change in mindsets across all demographics of society, a change that must redefine the concept of masculinity not just for today's men but for those to follow," he said.
He said that this change is possible only through education because there is "no wrong in the minds of those who have not been taught what is right."
Farhan, who launched the campaign Men Against Rape and Discrimination (MARD) in 2013, said there is a need to teach children a "new meaning of masculinity" at an age when their opinions about the world and about themselves take shape. He expressed hope that there is an unprecedented "will and resolve" among citizens now to make the question of women's safety "entirely redundant" in the years to come.
"As unsurmountable the mountain of prejudice and inequality may seem, it is actually a giant pile of dust that we for centuries have swept under the carpet. Our united will and the gust of a new mindset is all that will take to blow it away," he said to a huge round of applause.
UN Women Executive Director Phumzile Mlambo-Ngcuka described Farhan as an epitome of the agency's 'HeForShe' campaign. The 'HeForShe' campaign encourages men and boys to be leaders in the gender equality movement.
Urged by Phumzile Mlambo-Ngcuka, Farhan crooned lines from a piece he had written after the December 2012 gangrape of a young medical student in New Delhi that inspired him to launch MARD.
Earlier, in an interview with UN Radio, he talked about the changing realities in India, saying he was heartened by the thinking of the younger generation.
The "most heartening thing is the level of volume on the discourse. There was a time where you didn't hear about what was going on in people's homes," he said.
"Women were afraid to talk about if they were the victims of rape. More often than not stigma of rape attached to the victim than to the perpetrator."