News & Gossip
Farah Khan Cannot Contain Her Excitement To Meet Sania Mirza's Baby Boy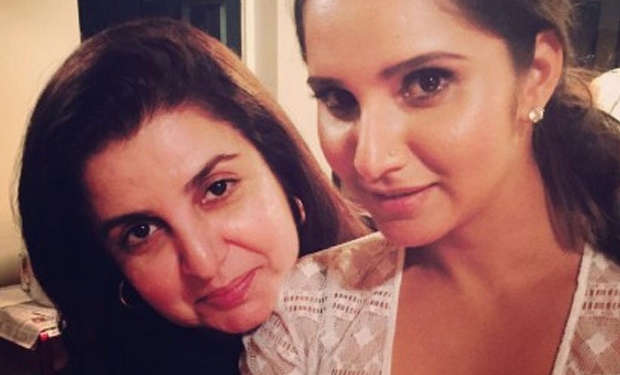 We had heard a few months ago that Sania Mirza is expecting a baby and the lady and her husband Shoaib Malik had taken their social media to share the good news with their fans in an incredible manner with an absolutely beautiful hashtag #babymirzamalik With this good news came in a lot many wishes and blessings and the couple, their families and friends simply couldn't wait for the birth of this child! Well, here ends their long wait as Sania Mirza and Shoaib Malik have been blessed with a baby boy who arrived just a few hours ago! Here's Farah Khan, Sania Mirza's best friend wishing her and expressing her excitement to meet the baby boy!
https://www.instagram.com/p/Bh6U0QpgLGs/?taken-by=mirzasaniar
Shoaib Malik took his twitter to share the good news with the fans writing, "Excited to announce: Its a boy, and my girl is doing great and keeping strong as usual #Alhumdulilah. Thank you for the wishes and Duas, we are humbled

#BabyMirzaMalik

"
https://twitter.com/realshoaibmalik/status/1057090038993870849?ref_src=twsrc%5Etfw%7Ctwcamp%5Etweetembed&ref_url=https%3A%2F%2Fwww.missmalini.com%2F2018%2F10%2F30%2Faww-sania-mirza-shoaib-malik-are-blessed-with-a-baby-boy%2F
It has been evident at a lot many incidents that Farah Khan and Sania Mirza have been BFFs for quite a long time and the duo spend a lot of time together! Their social media is full of pictures with each other and their appearance on TV shows together too is an evidence of the beautiful bond the two share! With the arrival of the good news, here's Farah Khan expressing her joy over the good news and here's how excited Farah Khan is to meet Sania Mirza's baby boy!
Farah wrote, "Finally!! Best news in a long time!! Congratulations @mirzasaniar@realshoaibmalik @anammirzaaa@imranmirza58 n of course the nani n daadi ♥️god bless our lil angel"
https://www.instagram.com/p/BpifBBdgUTg/?utm_source=ig_embed
We wish the mother and the baby good health! Stay tuned for more updates!