News & Gossip
Watch Jacqueline Showing Sizzling Dance Moves For Virat And Anushka's Wedding!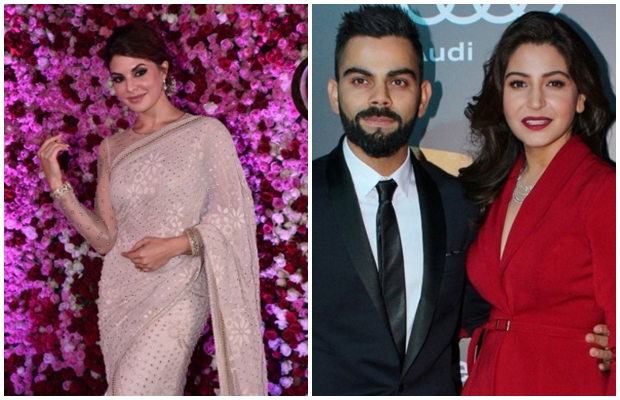 During Golden Rose Award celebrites were asked about the most trending news about Virat and Anushka's wedding and this is how they reacted to it.
Virat Kohli and Anushka Sharma's secret marriage are in buzz these days, where we have not received any confirmation from both nor they have denied it but they have reached to Italy with their respective family members. Whether they have appeared for Christmas vacation or for their wedding is still a question mark. Anushka Sharma who is gorgeous, as well as a successful in Bollywood, was in a relationship with Virat Kholi. Being the greatest batsman as well as a good captain of the Indian team, it seems they want to take their relationship ahead.
Last night, in Golden Rose Awards, several Bollywood celebrities were questioned about Viruskha's marriage, different replies were received, a few ignored and some has expressed.
When Anushka Sharma's best friend Katrina Kaif was asked about it, she avoided the question and stated, "So, we have come to that part of the night. This part of the night, this is what I do."
Whereas, Bhumi Pednekar answered, "Well, I am a little confused, what's happening? Are they? (laughs) Well if it is true, then congratulations. They are quite a power couple. They are amazing individually and together."
Meanwhile, Taapsee Pannu said, "Let's first get it confirmed that it is happening. Why are you guys after their lives? Let them get married in peace, and if at all they are getting married, just let them be!"
When Sushant Singh Rajput asked about the wedding, he looked surprised and thanked the reporters for informing him about the news. He added, "I don't know (laughs). This is a really good news. Thank you for informing me. I want to congratulate them. One is among my favourite actors and the other is one of my favourite cricketers. So, for me, it is a double joy."
But happening and enthusiastic Jacqueline Fernandez showed her some dancing step by stating "I am so so excited. I think it is an amazing news. I am really happy for Anushka and Virat. I can't wait for it.
Even we are excited to know when Virat and Anushka are going to tie the final knot.