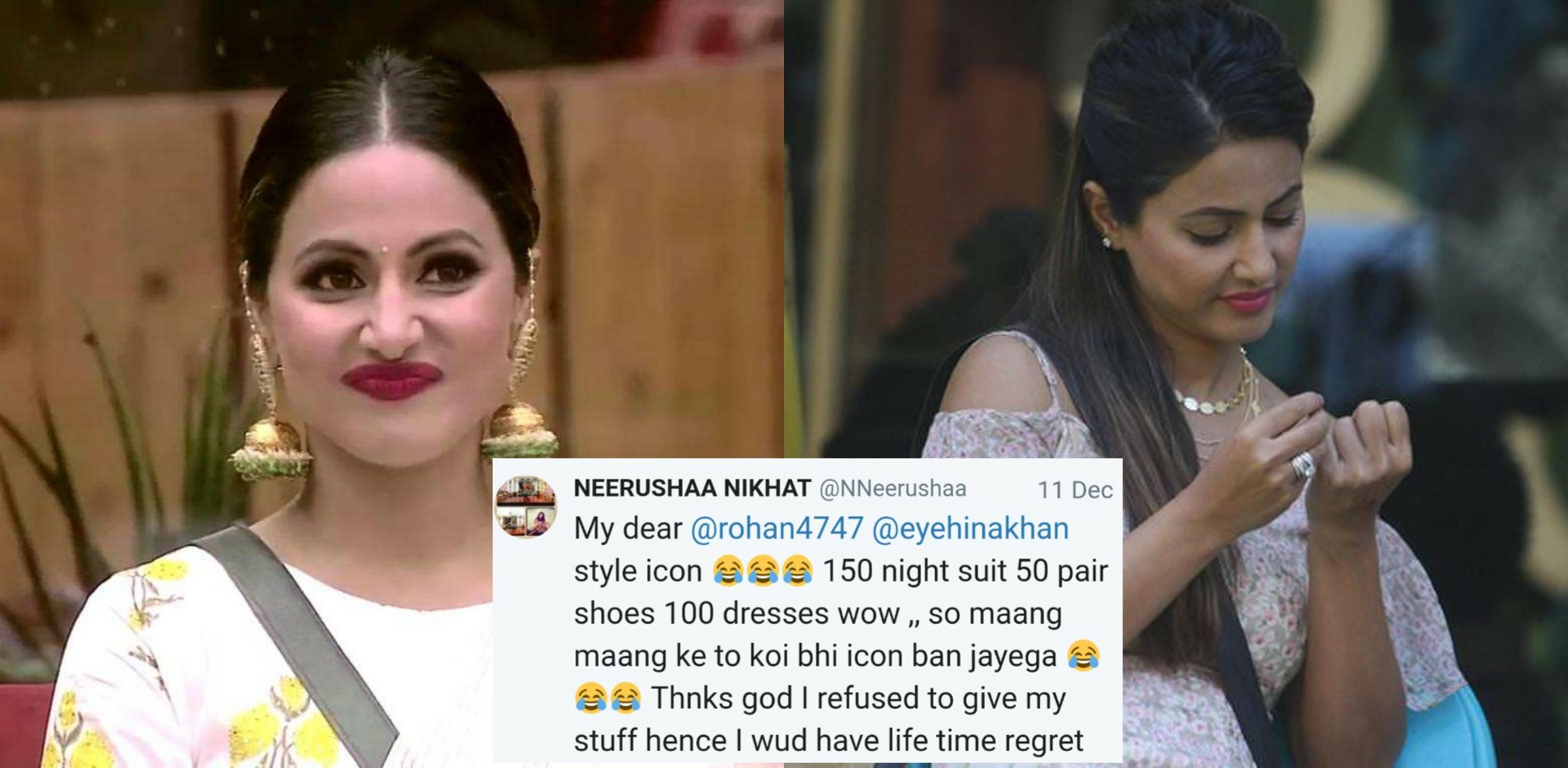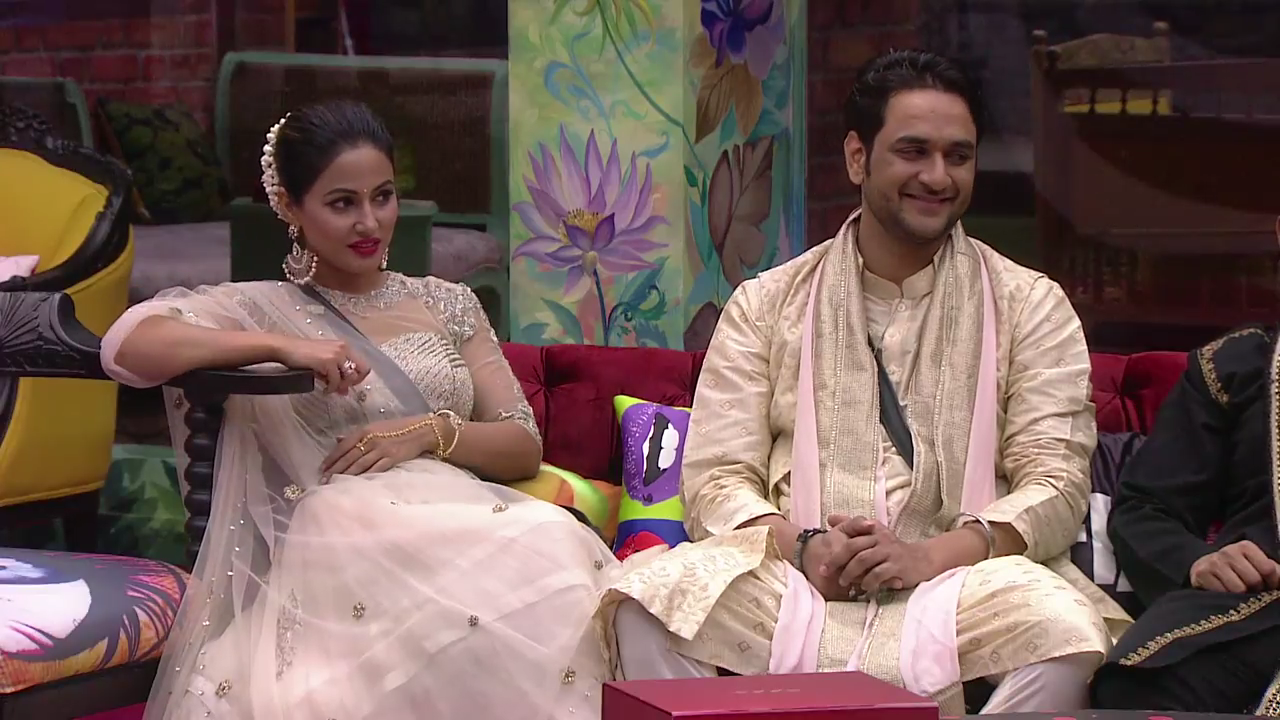 In-spite of all the accuses and allegation on Hina Khan, many people have started considering Hina as fashion icon. Rohan Mehra who recently went into Bigg Boss house to meet all the Bigg Boss 11 contestant, especially Hina Khan, he appreciated Hina's look and informed her that people are considering her as style icon. Well if you remember then once Vikas Gupta revealed that Hina is carrying 150 night-suits on the show.
https://www.instagram.com/p/BbmEJjhh7dQ/
Previously many famous celebs slammed Hina Khan for various reason. The new name who joining the bandwagon is Neerusha Nikhat who slammed Hina Khan on Twitter and also went on saying that the clothes Hina is wearing in the house are borrowed. Well this is a big allegation hence she came with proofs which proves that her accuses on Hina Khan is true. Stylist Neerusha Nikhat posted a screenshot of the message as a proof. Have a look on below images: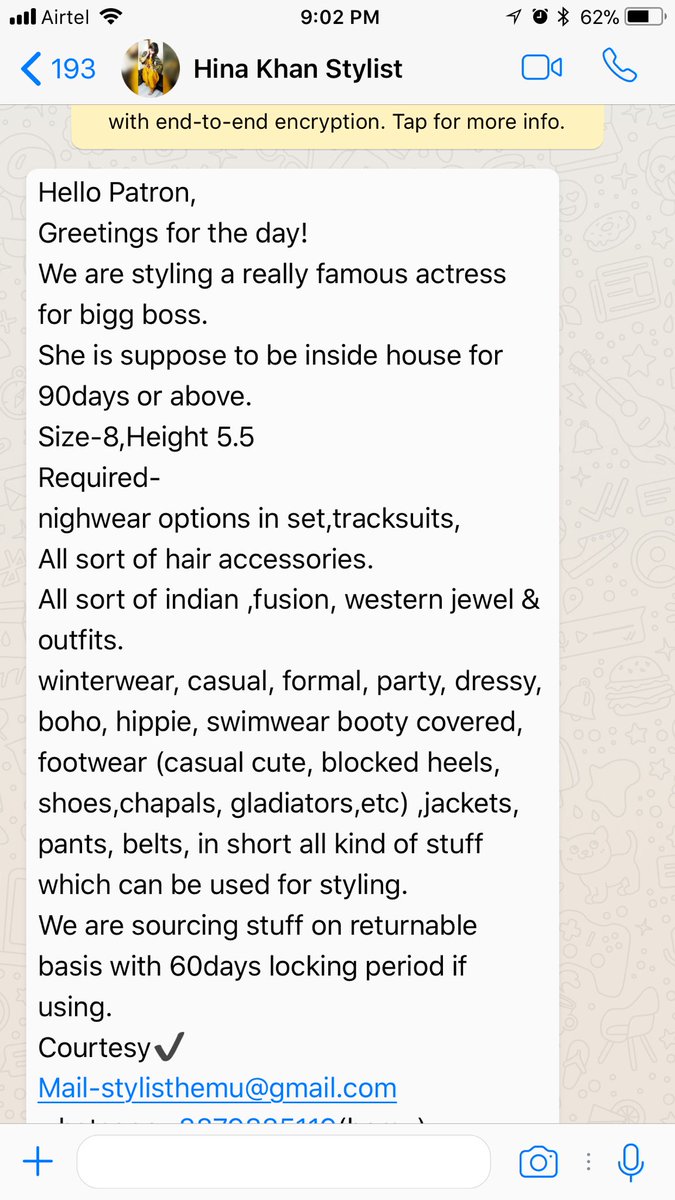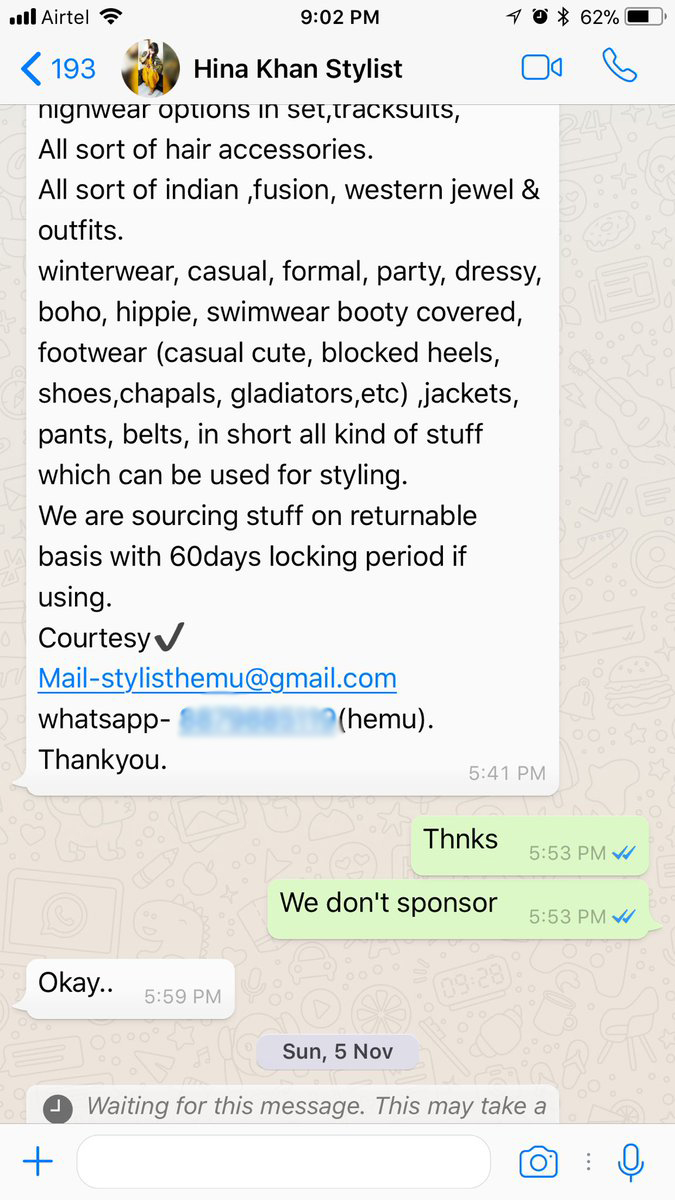 But obviously, above screenshots freaked out Hina's stylist Hemlata(Hemu) because in the snapshot which Neerushaa posted on social media have personal contact detal of Hemlata.
Meanwhile, Neerushaa in an interaction with Telly Chakkar revealed a lot about the matter. She said-
"The reason I said no to the proposition was because I knew Hina when she was doing a show (Yeh Rishta) for Rajan Shahi. I know the whole story on how she exited from the show. Even though I've worked for a small time, I've worked with this woman. I know her, I know her intentions and I never liked her. So when I was offered to sponsor her in Bigg Boss for minimum 60 days, I denied. When Rohan said that she (Hina) is the style icon, I was like sorry no! She is wearing clothes that are not even suiting her. My whole message was to Hina. Madam at least wear clothes that fit your body. Your height is 5'4' and you are wearing long gowns that are floor sweeping. Everything she is wearing is too much of an overdue. I'm a renowned stylist that is the reason I can comment on it. Main kal kiaayi hui hoon (I'm not a rookie)."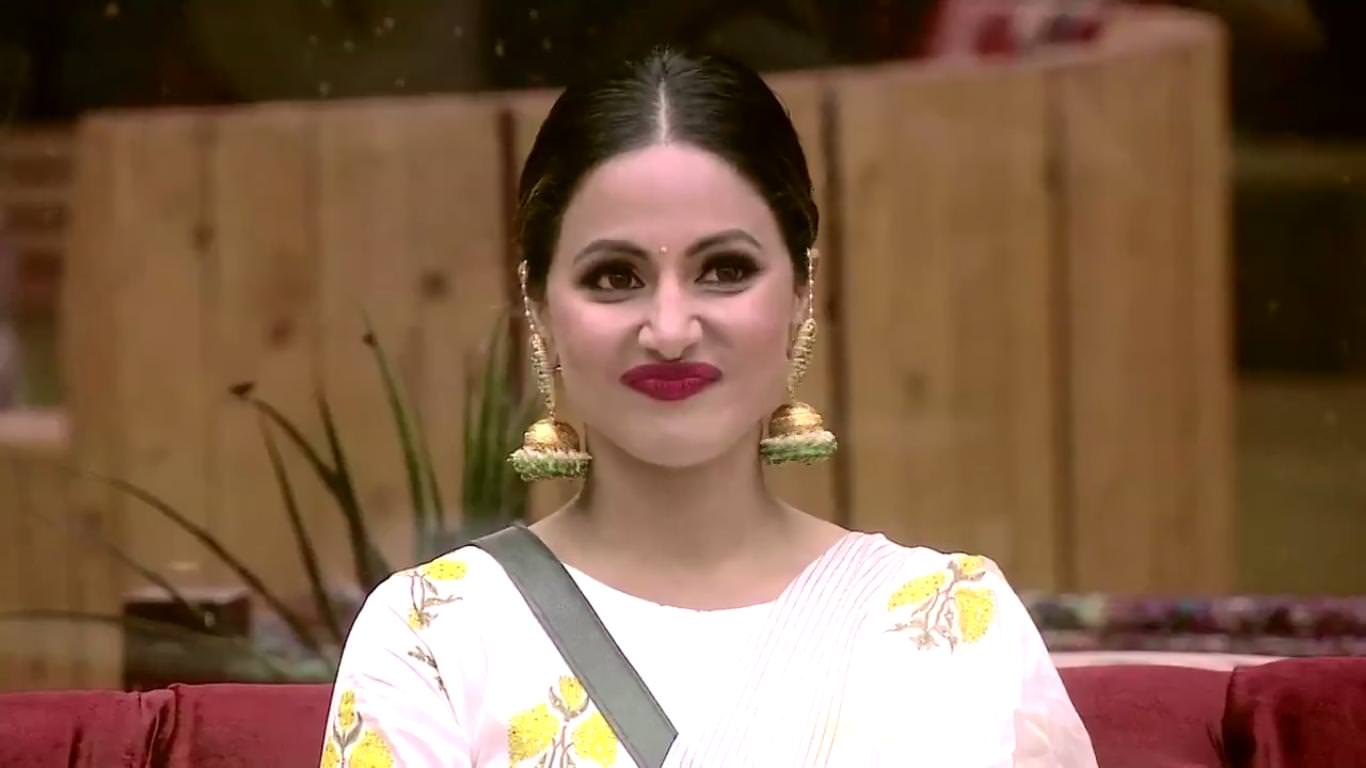 This is not it. She have more in stock to lash out Hina Khan.
"Of course it's (sponsoring) a trend; we've sponsored celebs like Mouni Roy, Divyanka Tripathi. But it's my personal choice whom to sponsor. I've seen Hina in two months; she is such a negative and cribbing soul. I don't like her personally. You are wearing 50k lehenga and sweeping floors; you are wearing a 20K gown and entering in a pool of water! You need to understand what that stylist would be going through, watching it outside. Honestly, she doesn't deserve good person around her."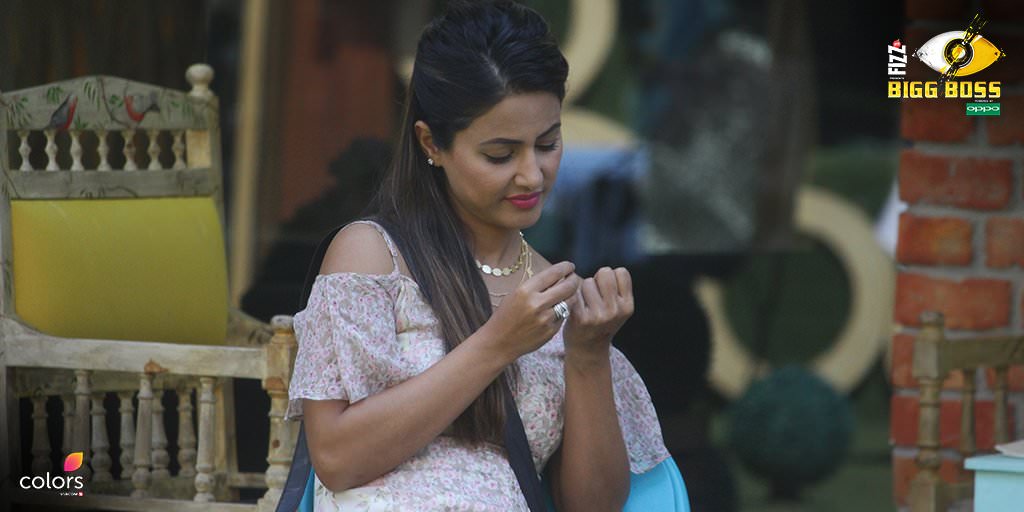 While speaking about styling sense of other female contestant in the house, Neerusha didn't left any stone un-turned to lash out on Hina. She said-
"Shilpa Shinde sometimes wears good and sometimes really bad clothes but people like her personality. Arshi also, whatever brains she has she is using it to style herself. Hina is taunting Arshi, for a matter of fact Arshi nighties will soon come in the market. So I would want to sponsor someone who I would like as a person that was the reason I tweeted. The crux of the tweet was that thank God I didn't sponsor her or else I would have regretted it. Style icon is clothes, it's personality. How you carry clothes is what makes you a style icon."
Some came in support of Hina and some got more reasons to lash out Hina. See how Twitterati reacted on the whole matter:
1.
I know your intentions are not wrong and this is damm funny but please hide the stylist number! That's personal info!! Otherwise love you mam!

— D (@lostsoul659) December 11, 2017
2.
Omg is this for real? 😂
Fir toh spread kar do rapidly 😂

— h (@kabhibhikuchbhi) December 11, 2017
3.
True usko lagta hain main sabse sundar hu..bigboss matlab ache kapde pehanti ,taiyyar hona,bistar mandli jamana aur girl power kar ke jor jor se chilana 🤣

— tiara tiara (@dasdeepika1) December 11, 2017
4.
It's something related to ur work .Why did u disclosed it on sns dat too someone's personal chat just For a TV show..Heights of unprofessionalism by u..N u disclosed someone contact number too..It seems u r just trying to earn some fame from BB😝

— Naaznin (@naaznin_01) December 12, 2017
5.
According to Hina's IG she gives credit to where it's due. People giving importance to these kinds of tweets lack common sense. Ridiculous. Open your 👁 people. Everyone these days have stylists. The way you carry the outfit, with confidence is what makes you a style icon. #BB11

— 🥃 (@Kaifacon) December 14, 2017
6.
https://twitter.com/imamfarah/status/940312317631324160
Stay tuned with us for more latest Bigg Boss 11 news and gossips.