Traffic rules are the most important rule everyone should follow, as breaking it means huge consequences. If we look at the number of people losing their lives in road accidents, it is the high time people should start following traffic rules.
The traffic police of all the states are trying their best to make people aware of the traffic rules and how important it is for them. Some of them are even trying new and innovative things to spread awareness. They are also using social media for the same purpose. However, people are still breaking the basic rules like wearing helmets or wearing seat belts.
Delhi Police has come up with a rather amazing campaign to educate people about the traffic rules. They are showing mirrors to the people, who break the traffic rules.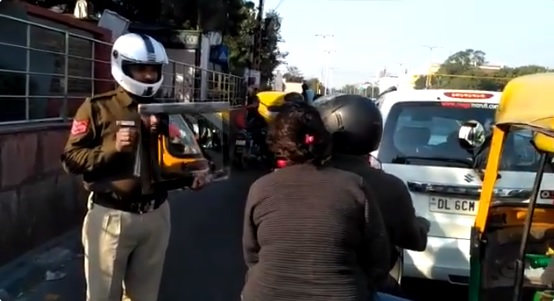 The official Twitter handle of Delhi Police tweeted a video, which shows Police wearing a helmet showing a mirror to those who are not following the traffic rules. Not only mirrors but they are also showing placards with messages about road safety. Police are looking to encourage people to wear helmets with their latest campaign.
Watch The Video:
— Delhi Traffic Police (@dtptraffic) February 9, 2019
People are loving Delhi Police's new campaign calling it innovative and unique. Look at some of the tweets down below.
1
Aunty ko fir bhi sharam nahi aai…she is feeling proud…

Hatsoff to Police. Great job

— SB (@SachinBhasin) February 9, 2019
2
Takes time. But Witness the change.

— GreyJoy (@KingInTheCentre) February 10, 2019
3
OMG😍😍😍; In love with Delhi. @DelhiPolice@AbhayPr28332700 @Aekii123 @PriabratS

— Satyabrat Singh (@singh_satyabrat) February 11, 2019
4
https://twitter.com/KunalAg50689767/status/1094601441413607424
5
Minding the traffic at peak hours is definitely not easy.
We have to learn to obey the rules.
No traffic officer would let us play with our lives.
Respect the police. Obey the laws.
Great job!!!

— Prateek Kaushik (@rustysden) February 10, 2019
6
Innovative… Hope now people will understand the importance of safety

— Pradeep Kumar (@pradeepDigital2) February 9, 2019
7
The idea of shaming people riding without helmets seems nice, but why the scooterist seen in the video being shamed for violating traffic rules not being seen challaned?

— Karn Singh (@KarnHT) February 11, 2019
8
Amazing creativity.. humiliation is best weapon ..

— 🇮🇳Hitesh Dagar🇮🇳 (@HITESHDAGAR) February 11, 2019
9
Great attempt in changing people's perspective about Police.

But would this achieve its real objective, I doubt. Its looks funny in all seriousness! 😀

— V!kranta (@VikrantaYadav) February 10, 2019
10
Well done delhi police.

— jaswinder malhotra (@jaswinderbhavi) February 10, 2019
The efforts of the Delhi Police deserve to be applauded. People should also really follow the traffic rules for their safety as well as others.