Bollywood
Deepika Said That Ranveer Flirted With Her While Dating Someone Else, This Is What Ranveer Replied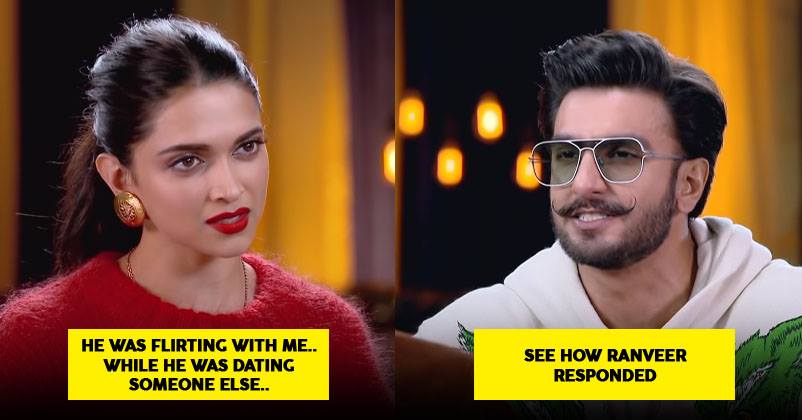 In an interview with Famously Filmfare, Deepika Padukone talked at length about how her relationship with Ranveer Singh took this beautiful turn. From meeting him for the first time to having dinner at Sanjay Leela Bhansali's house, actress remembered every bit of it. Deepika said on the show that when she met Ranveer for the very first time, she was in relationship with someone else and so Ranveer. Recalling her first meeting, actress revealed even though Ranveer was dating someone else at that time, he was flirting with her at Yashraj Studio.
https://www.instagram.com/p/BsXjlh6lQmi/?utm_source=ig_embed
Ranveer Singh who has recently graced the hot seat of the same show and has said that smiling at someone and whispering sweet things is not called flirting.
In an interview with Famously Filmfare, Ranveer Singh got candid about his wife Deepika. He revealed that Deepika is an ideal gharelu. He was quoted saying,"She is so gharelu…I love it…I love it. I am telling you I am going to be the husband of the millennium. I am going to glide and breeze through it."
Earlier while talking about life after marriage, Deepika told Filmfare, "I'm a lot more grounded. I feel secure, I feel protected. When you're in a relationship, there's still a lot of nerves, you're still unsure, no matter how long you've been dating. I guess, the terms boyfriend and girlfriend sound frivolous. Somewhere, it doesn't carry that weightage as marriage does. Today when we look at each other, there's a sense of responsibility".
One can't deny that Ranveer and Deepika's PDA's take internet by storm. Stay tuned with us for more Bollywood news and updates.