News & Gossip
BJP MP Paresh Rawal Got Brutally Trolled For Tweeting Fake Tweet of Rahul Gandhi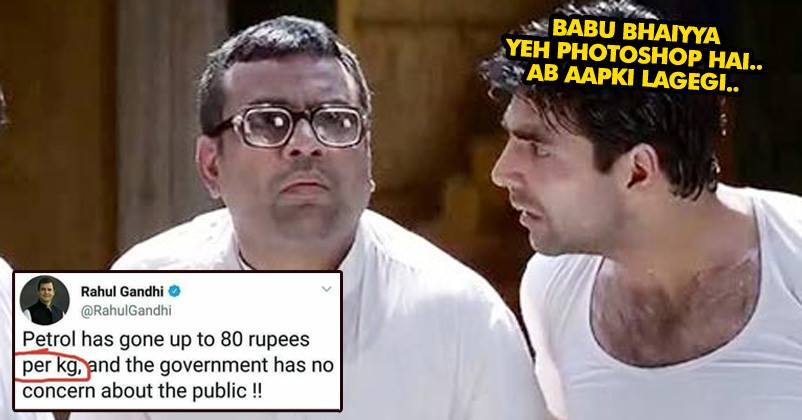 Paresh Rawal is one of the finest actors in Bollywood. From comedy to drama to villain, he has done every kind of role and excelled in every one of them. He always lights up the screen whenever he appears in a movie. However, the same thing can't be said about his personal life. Time and again, he shares some fake news or photoshopped pictures on his Twitter handle, which makes him a target of the online troll.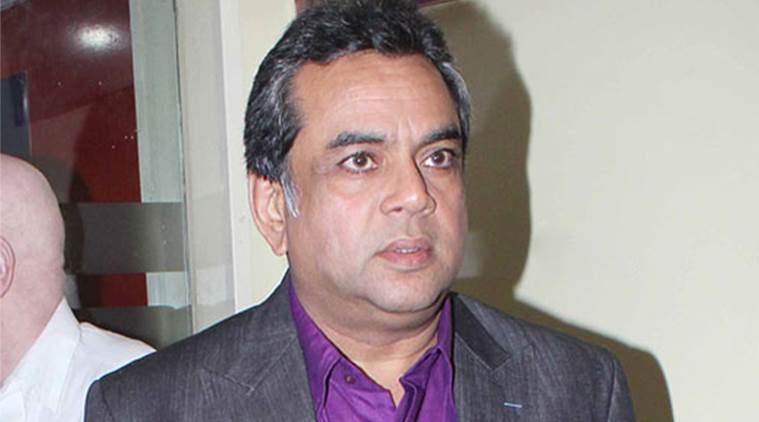 Once again, he took to Twitter to share a screenshot of Rahul Gandhi's tweet, where Rahul Gandhi used kg instead of litre while talking about huge petrol price hike.
The text on the image reads, "Petrol has gone up to 80 rupees per kg, and the government has no concern about the public!!"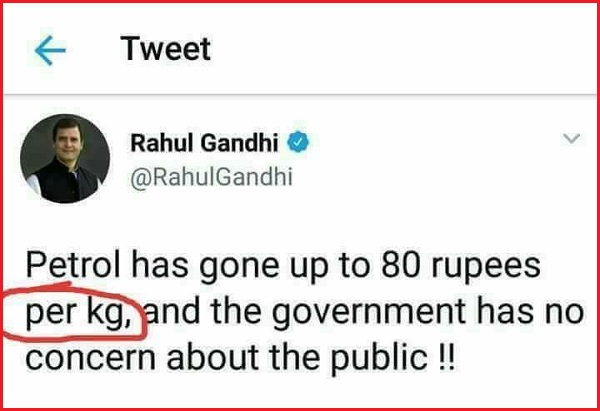 Here Is What He Tweeted:
— Paresh Rawal (@SirPareshRawal) May 24, 2018
The BJP MP got brutally trolled for sharing a fake picture on his micro-blogging handle. People are trolling him left, right and centre for his tweets.
This Is How They Reacted:
बाबू भैया के सर पे भक्ति का हेलमेट चढ़ा हुआ है। pic.twitter.com/I8YvvhKaYH

— क्रूर सिंह (@kroor_singh_) May 24, 2018
@SirPareshRawal pic.twitter.com/laPSlOj4xt

— सुनील दुबे (@sunil_wrt) May 25, 2018
Hello Twitter, Sir Paresh Rawal wants to learn basic Photoshop, Plz help him with your creativity and fill this empty template for him. pic.twitter.com/yP3gl9VyY5

— History of India (@RealHistoryPic) May 25, 2018
Are sir, Ye sab likhne ki jaroorat nahi thi, aisa kuch nahi hai ki aap donkey ho, thoda dimag use karo, sab thik ho jayega, aap ek number actor ho aur do kodi ke human, get well soon, bhagwan aapko sadbuddhi de😅 pic.twitter.com/FaswnpyeRR

— . (@AssamTweeter) May 24, 2018
Shame on u for sharing a photo shopped tweet….. Or u may have been recruited in IT cell of BJP which is famously known as Dirty Tricks Department

— Narasimha Murthy G K (@GKNarasimha) May 25, 2018
Agar thodi bhi sharam baki hai zameer me to delete kar de fake tweet … tumhare jaise log gumrah karte hain

— . 🏹 (@AlamSa60201) May 25, 2018
Babu bhaiyya kab babu chutiya ban gaye tum pata hi nahi chala 😂😂😂😂😂😂

— Yaser (@__y_a_s_e_r__) May 25, 2018
Fake hai, Rawalji! pic.twitter.com/htk3Qa8yAY

— Hasiba | حسيبة 🌈 (@HasibaAmin) May 25, 2018
WhatsApp university professor @SirPareshRawal again fell for fake photoshop tweet. 😂😂

— S (@SupariMan_) May 24, 2018
— Cow Momma (@Cow__Momma) May 24, 2018
Ye dekho andhe bhakt fake aur real ka pata nahi chale duniya gyaan baatne.sir ye to paka joke ban gya…bhaktoooo

— Naved Khan (@Khan07naved) May 24, 2018
On the work front, Paresh Rawal will next be seen in Sanjay Dutt biopic titled Sanju, where he plays the role of Sunil Dutt. Directed by Rajkumar Hirani, the movie features Ranbir Kapoor in the title role of Sanjay Dutt. The movie has been able to create huge buzz among the audience, all thanks to the amazing teaser released by the makers a few days ago.
What do you think of Paresh Rawal's tweet? Tell us your thoughts in the comment section down below. Stay tuned for more viral stories.