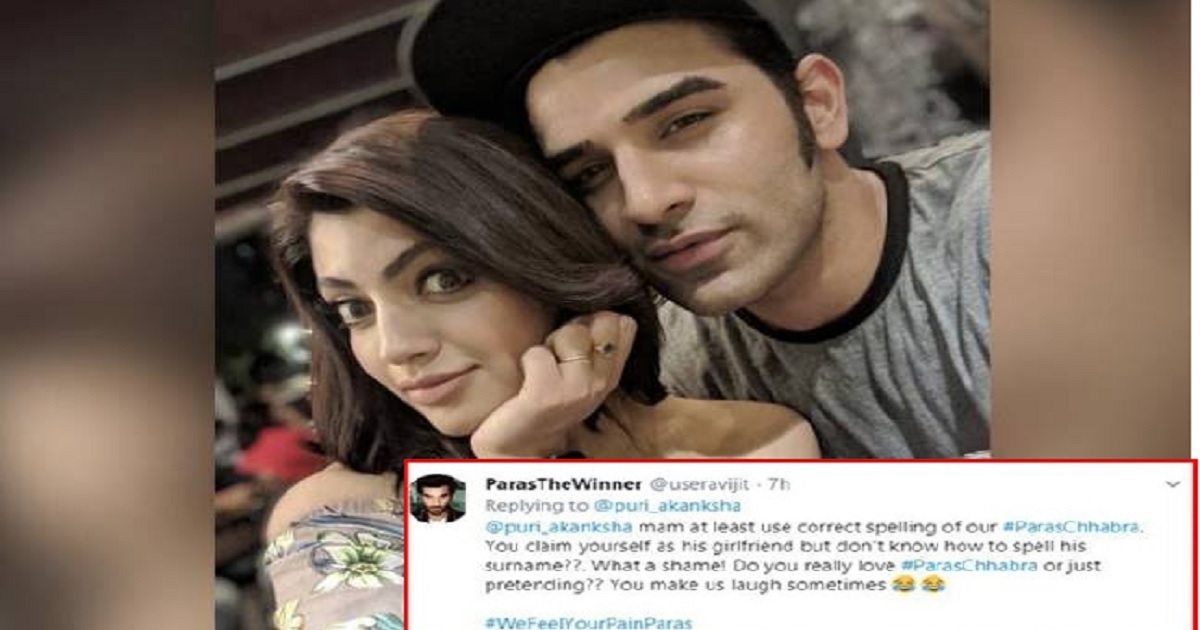 Akanksha Puri is mostly in the media for sharing her views on what is going on inside the house and outside the house with Paras Chhabra. Right from getting trolled for hair wig to flirting with Mahira Sharma, Akanksha has always kept fans his fans busy. Mahira's mother warned Paras not to kiss her daughter and let her fight alone, she even said his Girlfriend Akanksha is really nice girl, Mahira can be your good friend.
In her tweet, Akanksha revealed that she could feel Paras after hugging his mother, who had just returned from the BB house. However, it was instead her spelling mistake that caught fans' attention.
Akanksha Puri wrote Paras Chabbra instead of Chhabra and fans noticed who trolled the actress and even questioned her love for Paras.
"@puri_akanksh mam at least use the correct spelling of our #ParasChhabra. You claim yourself as his girlfriend but don't know how to spell his surname??. What a shame! Do you really love #ParasChhabra or just pretending?? You make us laugh sometimes," wrote a fan under Akanksha's tweet.
Akanksha slammed all the trolls by tweeting, "You all call yourself his fans n, not even 1 good comment regd any regards for his mother or any appreciation for her cooking for me rather U guys r more interested in pointing out his spelling n trending ur different # tags BT sorry I can't b biased n promote one n ignore other."

You all call yourself his fans n not even 1 gud comment regd any regards for his mother or any appreciation for her cooking for me rather U guys r more interested in pointing out his spelling n trending ur different # tags BT sorry I can't b biased n promote one n ignore other #

— Akanksha Puri (@akanksha800) January 16, 2020
Akanksha also shares that Paras' mother cooked dinner for her and how Paras must be missing all this, "It felt amazing when I got back home from shoot n Paras mom opened the door n she hugged me n I cud actually feel him #ParasChabbra cos she was coming back from #bb house n she cooked dinner for me..my baby is definitely missing on all this pampering."