Bigg Boss
Bigg Boss 12: Anup Jalota's reaction to Jasleen Matharu refusing to share a bed with him!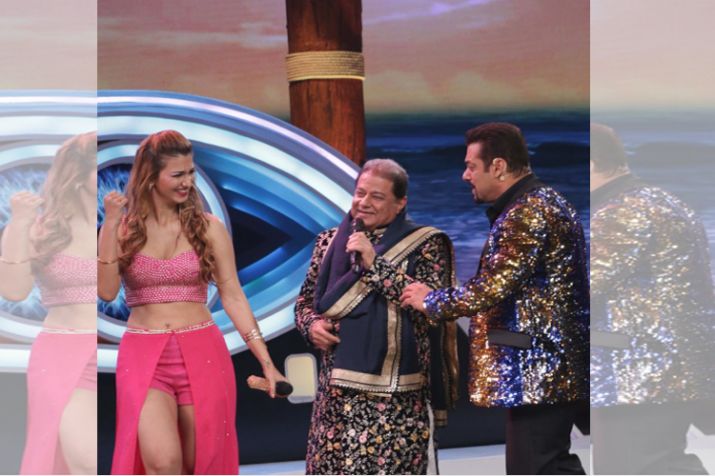 Bigg Boss 12 theme is "Vichitra Jodis" and the contestants this season truly defy the theme well! Amongst the crowd in the house including 6 celebrities and the rest commoners, the most uncommon and interesting Jodi is that of Anup Jalota and Jasleen Matharu! The duo had earlier been Guru Shishya and now are dating each other! Anup Jalota is 65 years old while Jasleen Matharu is 28 years old and this truly gives rise to a lot many questions over the truth or falsity of their relationship!
https://www.instagram.com/p/BlzeMwTBpON/?utm_source=ig_embed
Recently while choosing beds in Bigg Boss 12, Jasleen Matharu opted for a single bed beside Dipika Kakar's bed. When Anup Jalota tried to take a bed next to her, she told him that it's already occupied. Anup Jalota seemed to get pissed off at this statement made by the lady. His reaction with a touch of anger was, "Toh main dur hogaya, hum khule main soenge." Jasleen Matharu quickly said, "Aap ek kaam karo, wait karo, apko partner mil jaega koi."
https://www.instagram.com/p/Bnyelw7lRO2/?utm_source=ig_embed
It was evident that this had not gone well with Anup Jalota! Talking with a leading media house over entering the Bigg Boss 12  house with Anup Jalota, Jasleen Matharu had said, "This is going to come as a huge shock to my parents and friends as no one is aware of my relationship with Anup Jalota ji. We have been dating each other for the last three and a half years. We usually don't get time to spend with each other in the outside world due to our busy schedules, but now with the help of Bigg Boss 12, we will get to do so. Also, we will get to know if we can stay together forever."
It truly will be interesting to see how does this vichitra jodi deal with all the odds put up over them by the Bigg Boss house and contestants! Stay tuned for more updates!