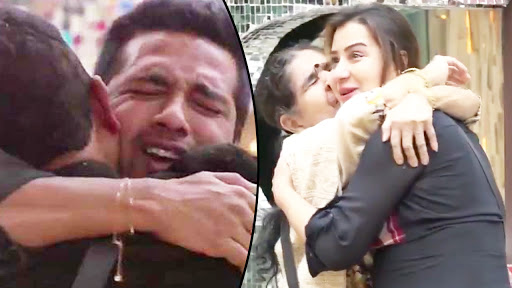 Bigg Boss 11 contestants Shilpa Shinde's mother and Puneesh Sharma's father enters the house! Here's what happens next!
This year's Bigg Boss season 11 is taking new twists and turns! With the hotty and naughty titbits, the show is taking an unexpected twist. With just four weeks to go with the finale more juicy stories are going to come up. Now, when the season is going to end, the housemates have begun to plan their strategies to survive with awestruck developments in the show. As in the latest episode, we have seen that Arshi Khan has become the New Captain of the house!
Well, in tonight's episode of Bigg Boss 11 it's going to be pretty emotional. The housemates will be surprised as their families are entering the house. Check out this released sneak peek videos of tonight's episode!
The contestants are going to rewind, freeze, and move fast forward and even walk in a slow motion when Bigg Boss will ask them to do so. All the contestants have to abide by the rules of the task assigned!
Tonight Shilpa Shinde's mother is going to enter the Bigg Boss house. Shilpa's mom requests all the housemates not to abuse her. She also advises that if all of them are addressing her "Maa", then she should be treated in that manner. All the housemates break down into tears! Later, Bigg Boss unfreezes Shilpa and she embraces her mother and both mother and daughter can't stop crying! All the housemates get the opportunity to meet Shilpa's mother.
However, Puneesh Sharma's father also arrives at the Bigg Boss house. Get ready to take a look at the emotional episode tonight! However, the voting lines are closed this week. As per sources, the makers of the show are planning a big twist in the game. Shilpa and Akash are nominated this week and there are major chances that one of them can go into the secret room!
Watch tonight's episode and share your comments below. Stay tuned to more updated news on Bigg Boss 11.