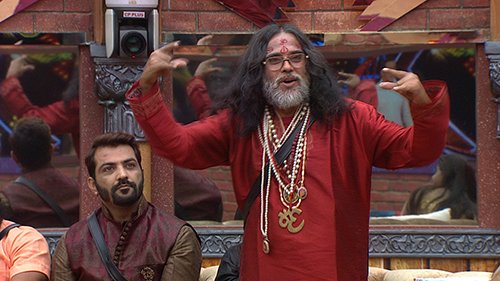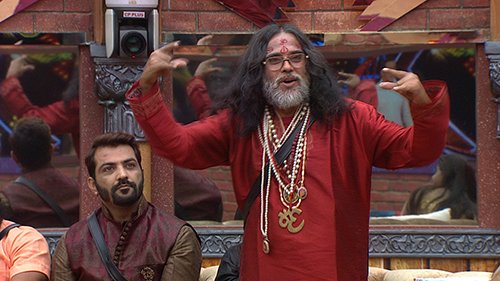 On the Bigg Boss 10 episode aired on 27 th December, the contestants are jelling with each other with little revelations and gossips here and there. But most of the focus was on Swamiji whose character Manveer and Manu were discussing in the previous episode saying he might just be acting as an innocent kid while he may be a Priyanka Jagga in disguise. Now in the latest episode, the inmates performed a task and we might say that Swamiji , in his attempt to irritate and play around , just ended up showing his true colors.
Bigg Boss 10 episode started with Swami Om and Mona dancing together singing the song "Ye Mausam Ka Jaadu Hain Mitwa". Then Manu Manveer and Swamiji start discussing Captaincy task which would take place soon after that. During this Swamiji brings up his babbling saying he can already see himself winning all the way. Then he approaches Gaurav telling him to speak to Bani regarding himself. He wanted Gaurav to tell Bani that she should not hate Swami. He tells him that he is a very emotional person and considers Bani as his daughter.
Manveer discusses with Lop about her miffing with Rohan. Then Manveer comes with the announcement of the task. The task begins. The contestants have to paint, repair and decorate the igloo and also enter it. The igloo is set up in the garden. The housemates begin the task. As the buzzer is heard, all contestants rush for the task, Mona is late to reach and so she is out of the task.
Then as the housemates begin to do the painting and repairing activities, we see Swamiji babbling and not cooperating with the others. Lopamudra is called to the confession room and is given more instructions. Gaurav fails to make it to the place before Buzzer goes and so he is also left behind. Swami and Bani have an argument and Swamiji irritates all others. He even urinates in front of the Igloo. The ruckus continues with Lopa trying to bring their temper down. Suddenly lights are out. After darkness, we see contestants singing Happy Birthday for Manu.