News & Gossip
Assam Police Takes Inspiration From Gully Boy To Teach People About Online Scams, Twitter Loved It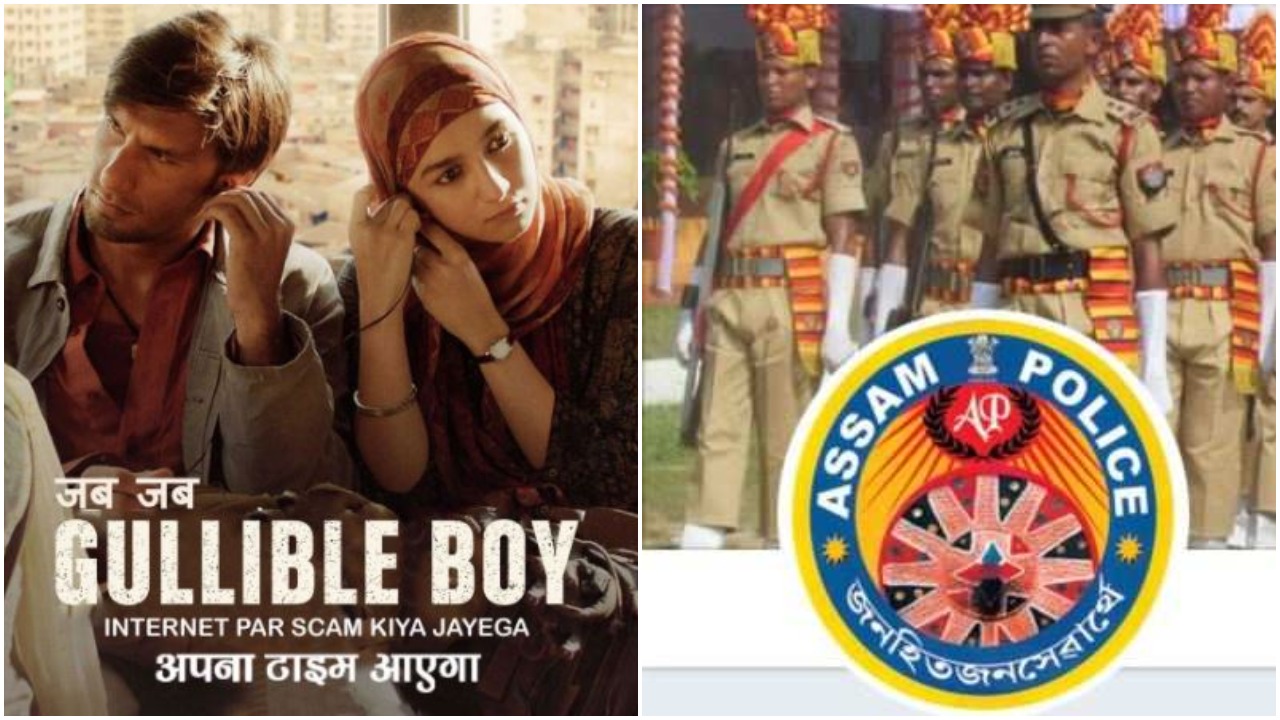 Ranveer Singh and Alia Bhatt Starrer 'Gully Boy' is all set to release today. The movie has been able to create huge buzz among the moviegoers ever since the trailer was launched. The songs of the film have also been well-received resulting in countless memes and rhymes. It is so popular that Mumbai and Nagpur Police used Gully Boy memes to create awareness about various social issues. Now, Assam Police has joined them.
Inspired by Gully Boy, Assam Police created their own version of rap to spread awareness about online scams. They shared a poster with a caption that reads, "Jab Jab Internet Par Scam Kiya Jayega — Aapna Time Aayega."
This Is What Assam Police Tweeted:
https://twitter.com/assampolice/status/1095601682946367489
Assam Police's Gully Boy inspired rap reads,
"Internet ki gully
Mayaa jaal hai pyaare
Muft haath aaye
Wo ye maal hai pyaare.
Yahan scammers ke sare sardar hain na
Ginti me jo ye sare beshumar hain na.
Tumko ab ye sab samjhaana hai
Sunkar bole @RanveerOfficial,
O ye to mera wala gaana hai! 🎤"
This tweet from Assam Police soon went viral on the web with netizens can't get enough of their creativity. The song is seriously catchy, which will stick in your head for a while. Look at what netizens are saying:
1
https://twitter.com/adityanagda5/status/1095873041148579840
2
Spreading awareness in a fascinating way

— MANISH BHARDWAJ (@iMrManish) February 13, 2019
3
Thora idhar v dhyan de pyare
Agar police wala rishwat mange to kya kare pyare
Mera rap kesa hua tum v batana
Kuch rishwat ka solution hai to jara humko v batana

— SamirDa49619602 (@da49619602) February 13, 2019
4
https://twitter.com/Jahangir_Jiaul/status/1095711825230995456
5
https://twitter.com/20iran20/status/1095640222606508033
6
https://twitter.com/pals1234567/status/1095608923300741120
7
https://twitter.com/doordarshan_/status/1095701727196651520
8
https://twitter.com/okpintu/status/1095644255542902784
9
https://twitter.com/Abhishekb225/status/1095675663854358535
What do you think? Tell us your thoughts in the comment section down below.