News & Gossip
Arjun Kapoor Opens Up About His Equation With His Sister Janhvi Kapoor Like Never Before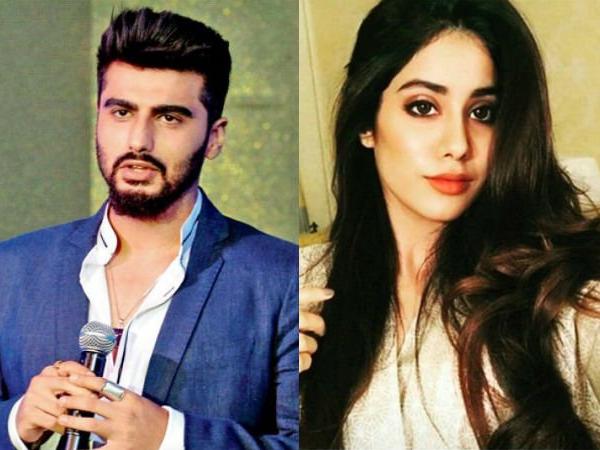 Koffee with Karan is the most popular chat show in Bollywood and the show is now back with its season 6! With Karan Johar's Koffee with Karan beginning this October, we simply cannot contain our excitement! To add more to it, the buzz reported that the shoot has already begun and on the couch this year, we shall have a lot many interesting combinations! One such interesting combination is that of Arjun Kapoor and Janhvi Kapoor and on Koffee with Karan, Arjun Kapoor has opened up about his equation with Janhvi Kapoor like never before!
https://www.instagram.com/p/Boj2-xLlIKk/?hl=en&taken-by=karanjohar
Arjun Kapoor said he was shocked when he heard about the combination, "It was quite cool. When Karan Johar had told me about the combination, I was pleasantly surprised that he brought it up. I'd never thought about us being ready to come out in public and spend time in front of the camera. But then I said to myself that, "Stop thinking, just live. You spent all your life thinking, just live a bit." I think that sort of has also been my mantra for the last eight months since whatever has transpired. I have seen three people's lives turn upside down. The best thing to happen to me was to go on Koffee With Karan with her (Janhvi Kapoor). It was a blast. It went well. I got to know her quite a bit and you guys will get to know her quite a lot."
https://www.instagram.com/p/BobHRg1FcbX/?hl=en&taken-by=karanjohar
Talking about her little sissy's debut movie Dhadak, Arjun Kapoor said, "In a strange way, I got to spend two hours with her, getting to know her along with all of you'll. I think she would know a lot about me because I have been available to the world for far more time and she was preparing for the shoot by watching all my old episodes. I was a reigning champion and she was going to be in a battle with the Koffee legend. She kept saying, "You're a legend. People are scaring me." She was watching the old episodes on the loop to get insights into how to tackle me."
https://www.instagram.com/p/BooHT3KgEKQ/?hl=en&taken-by=arjunkapoor
Opening up on the equation he has with Janhvi Kapoor, Arjun Kapoor said, "When I sat down, I realized that it is a very nascent relationship. Anshula (Kapoor) my sister allowed me to call two more girls my sisters and that is very commendable on her part. I just want to be a support system for them. Let them figure their lives out. They have enough time to figure me out and for me to figure them out. This is the rest of our lives we are talking about. So there is no hurry. It's not a knee-jerk thing to be one happy perfect family today. We will have moments of figuring and uncertainty but what I do know is that she is a good kid. She's got a good head on her shoulders. Akhir behen kiski hai?"
https://www.instagram.com/p/Bok2EuBgDy8/?hl=en&taken-by=arjunkapoor
"She's a sorted one. She's still learning how to walk in that scene. It is never easy to have your backbone snapped and if anybody knows what it feels like, it is me. My job is to be supportive and be there and I prefer to be a backseat supporter to this because it is their life to lead. I've had my share of upheavals and I don't want to be the one who's being the torch-bearer of see how good I am or whatever. I wouldn't wish that for my worst enemies.", he added.
Stay tuned for more updates!