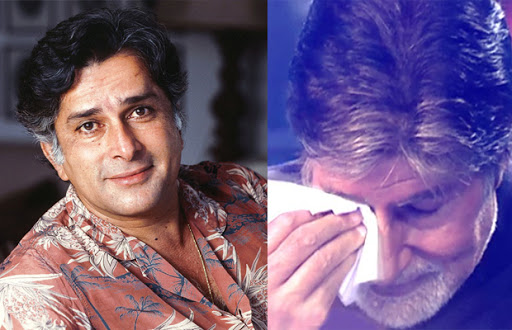 The news of the most veteran Bollywood actor Shashi Kapoor's sudden passing has sent huge shockwaves in the film industry. The legend of Bollywood who has been popular for his enigmatic style has incredibly good looks and acting prowess who has unfortunately breathed his last in the city hospital. He was 79 years old.
With the news of his demise, Bollywood stars were seen flocking to his residence in order to pay heartfelt condolences to the family. Amitabh Bachchan, the biggest star of the Bollywood were among the many who were spotted visiting the Kapoor residence.
Amitabh Bachchan who had a very close bond with Shashi Kapoor, shared some of the fondest memories in his blog and paid ode in his post titled, "To Shashiji from your 'babbua'."
In the long post, he has recalled the time Shashi Kapoor's photo shoot came in a magazine, ""Standing elegantly without a care in the world, I saw him standing by a Mercedes Sports car, a convertible, a smart trimmed beard and moustache, adorning involuntarily, the face of this incredibly handsome man. It was a picture that filled almost an entire page of a magazine. Shashi Kapoor … son of Prithviraj Kapoor, younger brother to Raj Kapoor and Shammi Kapoor, making a debut in a forthcoming film, is what the caption read. And I said to myself, as very uncertain thoughts raced through my mind of wanting to become a film actor, that, with men like him around, I stood no chance at all."
Share your comments on the same. Stay glued for more news!