News & Gossip
All you need to know about Deepika Padukone's character Malti, based on acid-attack survivor Laxmi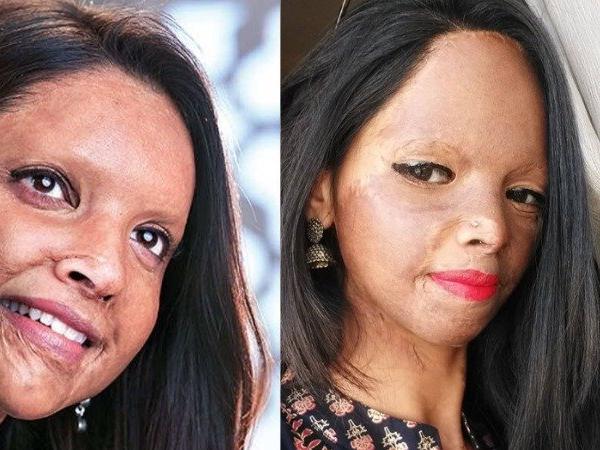 Deepika Padukone's first movie post her wedding with Ranveer Singh in November, 2018 is Chhapaak, a Meghna Gulzar film, based on the life and events of the acid-attack survivor Laxmi Agarwal's life! Laxmi Agarwal is a real life acid-attack survivor! The character played by the actress is named Malti in the movie and here's all you need to know about the character the actress is to play in the movie!
Laxmi Agarwal was born in a middle class family, in Delhi and till 2005 her life too was like the other normal girls! In 2005, on her way to a book shop near Khan Market where Laxmi was working as an assistant, a long-time stalker and a man twice her age, threw a beer bottle loaded with acid on her for rejecting his advances. And ever since this horrific incident, she's had to undergo multiple surgeries, but more critically, overcome the psychological scars that have come with it.
https://www.instagram.com/p/Bu7sekgn34l/?utm_source=ig_embed
Laxmi then decided to carry out an extensive campaign against the sale of acid in India and offering affordable treatment to survivors. She credits her father for inspiring her to file a Public Interest Litigation in the Supreme Court a year after the attack alongside another survivor Rupa. The petition was seeking the passage of a new law or amendments to the existing provisions in the Indian Penal Code, Indian Evidence Act and Criminal Procedure Code to deal with acid attacks, besides framing of rules for compensation to survivors. She also sought a complete ban on the sale of acid across the country citing the number of such horrific attacks. In July 2013, she won her battle in court for the most part when the court issued a set of new restrictions on the sale of acid, which includes a ban on sale to minors and furnishing a photo identity card before buying it, among other such restrictions.
https://www.instagram.com/p/BsvBMMAnjQG/?utm_source=ig_embed
Then came March 2014, she had won the US State Department's International Women of Courage Award in 2014, with the then First Lady Michelle Obama presenting it to her, but she lost her brother to tuberculosis and father to a heart attack. This was also the year when she met Alok Dixit a journalist and the founder of the Stop Acid Attack campaign. The two fell in love but instead of getting married, the couple decided to live-in together, challenging the society for their judgmental attitude of judging a bride by her looks. Their child, Pihu, was born on March 25, 2015.
https://www.instagram.com/p/BuShTvyniyn/?utm_source=ig_embed
Soon after their daughter was born, the couple separated due to personal differences. Although Laxmi had custody of the child, her income streams started drying up and the cost of raising Pihu took a toll. Salary from the non-profits stopped once she left them on account of differences with Dixit who didn't do much to support Laxmi and her child, citing the lack of money.
When Laxmi was asked about Deepika playing her role in Meghna Gulzar's next, she spoke to Hindustan Times saying, "I believe art is art. I am so happy that Deepika is playing the role. I have no right to judge her. How can I judge someone for something which I can't do. She has played wonderful characters on screen and I believe she will give her best. I want to thank Deepika ji, Meghna ji and the entire team who will be working together on the film. I am glad that the movie will spread awareness and will help people who are victims of such incidents to come out of it. They will get inspired that if she can do it than why not us.
Chhapaak releases in January 2020! Stay tuned for more updates!