News & Gossip
Aishwarya Rai Bachchan back in Mumbai, signs a Karan Johar film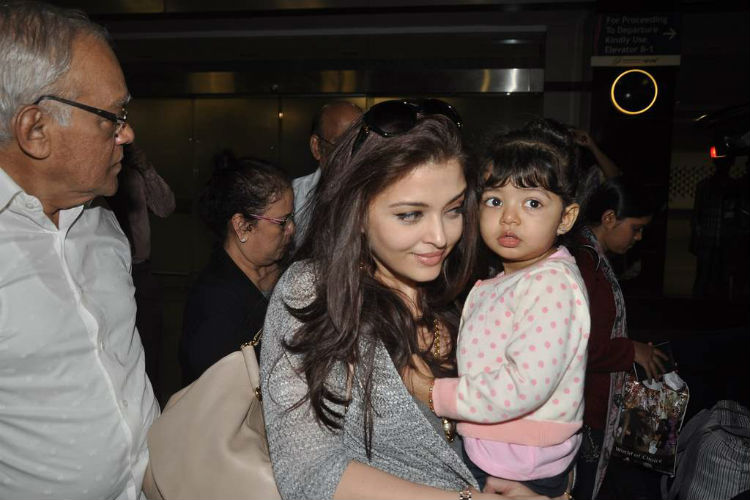 Aishwarya Rai Bachchan and her lovely daughter Aaradhya returned home after spending an eventful week at the Cannes Film Festival that brought together a variety of stars against the landscape of the French Riviera, charity events, and of course, red carpets with celebs strutting around in extravagant ensembles.
The 68th edition of the prestigious film festival saw Katrina Kaif make her debut sporting shared of red, and Sonam tking the plunge with some risqué outfits. It also saw Aishwarya step up her style quotient in some beautiful gowns that looked like they were drawn out of a fairytale.
Aishwaya, who made her 14th consecutive appearance at the film festival, shut the show down when she made her appearance in a gorgeous while ensemble by Ralph and Russo.
The former Miss world walked the red carpet as a brand ambassador for beauty brand L'Opreal Paris and also launched her upcoming film 'Jazbaa' at the festival with her director Sanjay Gupta.
The star was on a tight schedule for the past week attending red carpet events, press interviews, photocalls and photo shoots (for L'Oreal), launching her movie, attending panel discussions and even charity events.
Ash also took over a social networking site for a day, where she let fans in on the madness and mayhem going on behind the scenes.
In one of her many interviews, Ash said that she was more than just a face of a beauty brand and that she had grown and build relationships with people over years.
Ash was one of the very few Indians to launch her film at the international event. A part of her comeback film 'Jazbaa' was screened for a select few members at the fest in a closed-door event.
Fans of the star around the globe will have to wait a tad bit longer for the clip to make its way online. If it makes things any better, the director did releases a teaser poster of the film through his Twitter handle.
The actress even revealed that she had signed on for two films, one with Sujoy Ghosh and another with her long time friend Karan Johar.
However, it was not an all work, no play get away for the actress. During a press interaction, she said that she had managed to sneak out from time to time with her partner in crime, her little daughter Aaradhya.
The mother-daughter duo snuck out from their hotel room and went around town un-noticed as they enjoyed their time at the park and eating ice-cream.
She also said that the film festival holds a special place in her heart for reasons more than one. "Aaradhya completed six months here. Also, my mother's birthday is in the same month, and I am invariably here to celebrate it. It does have a personal mother-daughter connection," she says.
Ash even said that her daughter, who is only three and a half years old, is already getting used to the flashing cameras and that it doesn't really bother her. Now that Ash is back in the city, she will resume work on 'Jazbaa' that is almost complete. At the festival she revealed that the film was 70% into completion and that she was excited for the film and couldn't have asked for a better cast.
On her arrival at the Mumbai International airport last evening, the actress was welcomed by her father, who was seen hugging and kissing his favourite grandchild, before leading them to their car.