News & Gossip
After Neetu Kapoor's cryptic post, here's what Randhir Kapoor has to say about brother Rishi Kapoor's health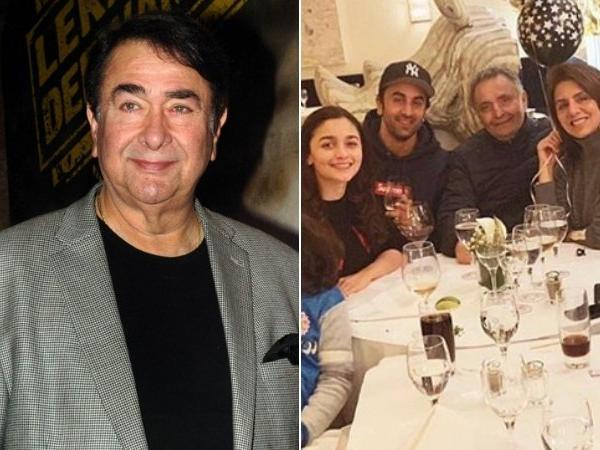 Rishi Kapoor, the yet so young actor of Bollywood has recently gone to US for some medical treatment against the wear and tear caused due to films! With the revelation of this news made by the actor himself, there are a lot many speculations being made by the people about the treatment the actor has gone to US for as mentioned in Rishi Kapoor's tweet! Among these speculations, one is that the actor is suffering from cancer and his cancer reports have become like the hot topic, spreading like fire over the fragile Internet! Well now, the recent post put up by Neetu Kapoor has sort of confirmed Rishi Kapoor's cancer treatment in New York! Post Neetu Kapoor's cryptic post, here's what brother Randhir Kapoor has to say about Rishi Kapoor and his health!
Neetu Kapoor wrote, "Happy 2019..no resolutions only wishes this year !!! Less pollution traffic!! Hope in future cancer is only a zodiac sign !!! No hatred less poverty loads of love togetherness happiness n most imp. Good health."
https://www.instagram.com/p/BsEOeh3AV2Q/
When Randhir Kapoor was asked about Rishi Kapoor and about what Neetu Kapoor wrote, Randhir Kapoor said, "I don't know much about it but this much I can tell you that [Rishi] is doing well. Let people say whatever they want to. That he is doing is well is evident from the photo that I, too, have seen. He is having a good time with everyone and has stepped out to enjoy a good meal. He will soon be coming back to India. We are looking forward to that right now."
The photograph that sparked speculations had Neetu Singh with Rishi Kapoor, Ranbir Kapoor accompanied by girlfriend Alia Bhatt, Rishi's daughter Riddhima Kapoor Sahni, her husband Bharat Sahni and their daughter Samana Sahni.
Stay tuned for more updates!