News & Gossip
9 Actors Who Found Their Love In Third Attempt At Least
Perhaps the Film industry is no short of actors who are Shakespeare's fans, as he very well presumed that "good luck lies in odd numbers".the actors took it to their nerves and applied it in their life.
Since many of them had to face hardship while haunting for their soul mates, many got married which ultimately failed.
Here is a list of actors who did not give up and kept on the search which ended up on a happy note where they finally met their life partner after the failure of the first two marriages.
1. Sanjay Dutt:
He found his love in Richa Sharma but could not keep her beside for life long as she died in 1996 due to brain tumor. The actor later married model Rhea Pillai but the marriage was a big time failure and they took divorce in 2005. The thirst of finding true love was quenched after he married Manyanta Dutt in 2008 and the couple is living happily since then.
2. Karan Singh Grover:
This actor never seemed to be satisfied with his love life as he fell in love twice but the love did not last long. Initially he got married to Shraddha Nigam in 2008 and seperated in 2009. He then fell in love with Jennifer Winget on the sets of "Dil mil gaye" but took divorce after 2 years. Lately he tied know with the bollywood's bomb shell Bipasha Basu. This would be his third marriage.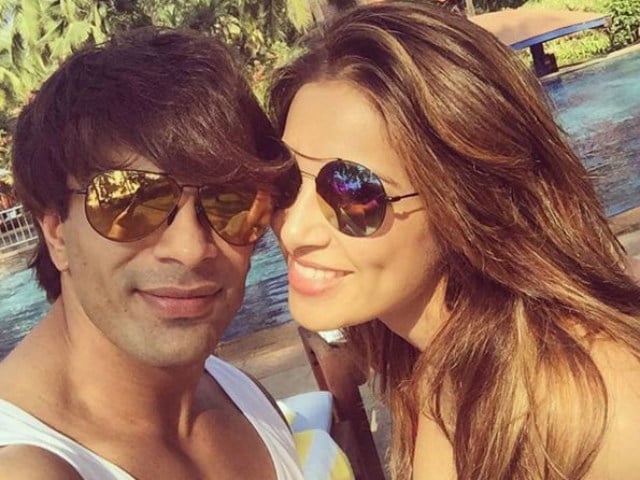 3. Neelima Azeem:
Everyone is more familiar with her as the mother of Bollywood's chocolate boy, Shahid Kapoor. Neelima got married to Pankaj Kapoor,who gave a superstar to the film industry with the name Shahid. The marriage however failed in 1984. She later married Rajesh Khattar but this relationship did not work either resulting in her third marriage with Ustaad Raja Ali khan in 2004. She had a hard luck in this sector and hence she freed herself from the knot for the third time .
4. Kabir Bedi:
Father of Pooja bedi, quite a familiar name of Bollywood, got married for the fourth time. Pooja's mother is actually Kabir Bedi's first wife Protima, who was a professional dancer. After the failure of his first marriage he tied knot with Susan Humphrey and then to the TV presenter Nikki Bedi. Luck didn't favor and he once again left in search of true love for the fourth time and ended up the chase on Parveen Dusanj.
5, Vidhu Vinod Chopra:
His first two marriages with the film editor Renu Saluja and Shabnam Sukhdev did not end up at a happy note. After the failure of the previous two marriages he tied knot with Anupama Chopra. In her he found the true love.
6. Adnan Sami:
The singer who is currently in a married relationship with Roya Faryabi had to face hard times in his life when two of his earlier marriages failed. He got married to actress Zeba Bakhtiar in 1993 but the marriage did not last for more than 3 years, which led him to marry the Dubai based girl Sabah Galaderi in 2001.
7. Lucky Ali:
He married New Zealand based Jane McCleary with whom he had 2 kids. The couple was happy until problems got induced in their relationship and he married Inaya after getting Divorced. The second marriage did not last any longer and he broke off the knot again. As of now he is married to the British model Kate Hallam and has a son named Dani.
8. Kishor Kumar:
The trend of marrying more than once has been prevailing in the industry since the time of Kishore Daa. The actor cum music director failed in finding true love thrice. His first marriage with Ruma Guha failed after the birth of his son Amit Kumar. He then saw love in the actress Madhubala, but the unexpected death of the actress led to his third marriage with Yogita Bali. After getting separated from his third wife he ultimately got married to Leena Chandwarkar, who was an actress as well.
9. Siddharth Roy Kapoor:
The producer who is now well known as Vidya Balan's husband had a past with two failed marriages before tying knot with Vidya Balan. His first wife was his own childhood friend. The marriage however ended with clashes between the two and he married a TV producer.