News & Gossip
Aamir Khan deeply affected and disappointed by AIB Roast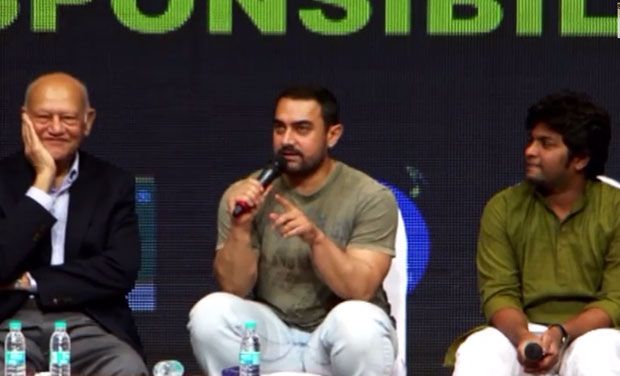 I was deeply affected and disappointed by AIB Roast – Aamir Khan
Over the past few weeks a lot has been said, heard, written and read about the AIB Knockout – Roast of Arjun Kapoor and Ranveer Singh. The audiences has been split with some appreciating the sardonic humour used in the show, while others condoning the show and its participants for their blatant use of scornful language. Aamir Khan shared his views about the show during a press interaction at an event.
Commenting on the show, Aamir Khan firstly clarified that he had not watched the show to get into the details of it. "First off, I want to clarify that I haven't watched the show, I have only seen a couple of clips of the roast till now. I heard more about what the show was when Karan (Johar) and Arjun (Kapoor) told me about what transpired there along with a few dialogues. On hearing what they had to share, I must say that I was deeply affected and disappointed with it." Further clarifying that he was not against the freedom of speech being curtailed, Aamir Khan stated, "I am completely for freedom of speech, I have no issues with that. But we have to understand that we all have a certain responsibility."
After setting the premise of his revert to the AIB Roast, Aamir Khan went on to elaborate how he felt about the show saying, "When I heard what was said, I felt that it was a very violent event, as violence is not just physical but also verbal and emotional. So when you insult someone and show it to the world, it is like showing everyone see how violent I can be, this is something that I don't like. But I am sure that there are a lot of young people who have liked the show and I believe that all of us have different opinions and we are allowed to have it. As for my views, I felt that the show was violent. And both Karan and Arjun being my friends, I told them that I didn't like it. Besides trying to impress people by using abusive language is pointless. I am no longer 14 year old who will hear abusive language and laugh. If you really want me to laugh then do so without hurting anyone. That is what I will enjoy."
Clearly the after effects of AIB's Roast video are not yet gone and will take a very long time to fade away. After Fareeda Jalal and Ashoke Pandit's reactions to the Roast, Aamir Khan has expressed his opinion on it and it's worth listening to.
We are entitled to have different opinions, and Aamir Khan has stood up to his. But he doesn't go against it. "Yeh mere type ka show nahi hai, isliye mujhe nahi dekhna", he says and makes it clear that he's not being the moral police here.
"There is a lot of lynching of them happening publicly, witch-hunting. I don't believe in that either." And he continued that forcing them into removing their video, or over-interfering into it was also not his style.
Here is The Video About Aamir Statment which Went Viral on Internet Do comment What you Feel About this Whole Controversy