News & Gossip
Aamir Khan Came In Support of Salman Khan ' s Race 3, Twitter Trolled Him Brutally!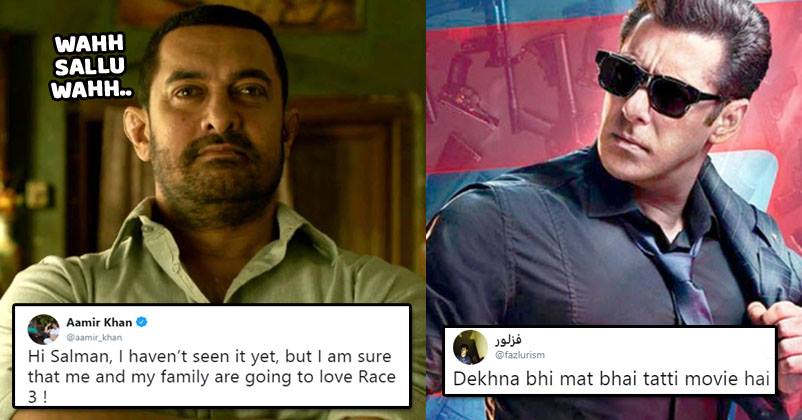 Salman Khan Starrer Race 3 has taken a huge start earning approx Rs. 30 Crore on the first day in India. However, the movie is receiving a huge backlash from the audience. They are labelling the film as the worst movie ever. It would not be wrong to say that Salman has disappointed his fans with Race 3.
Race 3 has been favourite of trolls and meme creating pages ever since the trailer of the movie released. Daisy Shah's epic dialogue "Our business is our business, none of your business" was trending on social media and internet for days. You can still find countless memes on the internet. Some of the fans did appreciate the trailer for high-octane action scenes and beautiful locations, however, after watching the movie most of them are slamming it for the weak plot and lack of any story.
However, as the movie was released yesterday. People from industry are wishing Salman Khan best of luck for his latest flick. Friends from Bollywood took to Twitter to wish him luck. Even Mr Perfectionist Aamir Khan wished Salman luck and wrote a heartfelt message on Twitter.
Aamir tweeted,
"Hi Salman, I haven't seen it yet, but I am sure that me and my family are going to love Race 3 ! Love you personally and professionally 🙂 . I loved the trailer! It's going to be a blockbuster and break all records! Love."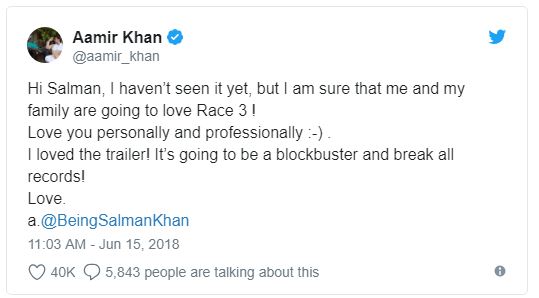 However, Twitter started giving some warning to Aamir Khan about the movie. Basically, they started trolling Salman all over again. Check out some of the reactions down below.
Dekhna bhi mat bhai tatti movie hai

— Fazlur (@eightpackofabs) June 15, 2018
https://twitter.com/Sahir_Dhoom/status/1007500503175987200
https://twitter.com/SadhyaSom1/status/1007498376454254592
https://twitter.com/siddharth_sidt/status/1007498142307135488
Yeh dosti nahi fasi ka fanda hai
Jaan bujhkar jhoot bolna padhta hai harbar 😡😡

— THE DISSENTER (@IamSamSanyal) June 15, 2018
https://twitter.com/Sahir_Dhoom/status/1007501784363876353
What do you think? Have you watched Race 3 yet? If not, are you going to watch it? Tell us your views in the comment section down below.