News & Gossip
Aamir as an alcoholic divorcee, Kangana to play mother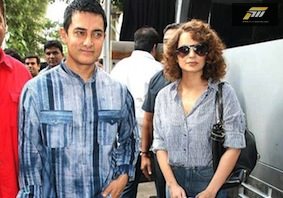 Aamir as an alcoholic divorcee, Kangana to play mother
Aamir Khan, who recently turns 50, has grabbed another project which will roll after he wraps up 'Dangal'. He will be seen in the role of an alcoholic divorcee post 'Dangal'.
A source informs, "Aamir is now busy shooting Dangal but he plans to release it next Christmas. He does not want to lose out on time. He has already decided on his next project"
The other film in which Aamir will be seen in the role of drunken divorcee will be his manager Advait Chandan's maiden directorial venture. "His manager is turning a director and expectedly, he has turned towards Aamir for help who has readily agreed to be a part of the film", revealed our khabroo. What is the film about? "The film revolves around a teenage girl who saves her mother from her abusive father with the help of an alcoholic divorcee".
"It is a mere coincidence that he did a film 'PK' without getting drunk although there were conjectures initially that he is playing a drunkard in PK. Now he is actually turning an alcoholic for his next", confirms our source.
Kangan Ranaut is most likely to play the tortured mother. "Talks are on with Kangana for the film. Aamir is very fond of Kangana and has showed interest in working with the actress. Kangana, on the other hand too follows Aamir in a lot of ways. The director is planning to cast Kangana as the mother. But nothing has been finalised now"
When asked about the role, Aamir totally denies it. "No, I have not signed anything else. I am going to be totally engrossed with Dangal. Once I sign anything, I will let everyone know. Right now, I am not even looking at scripts", he said.