Bollywood
8 Hollywood Actors Who Want To Work With Indian Actors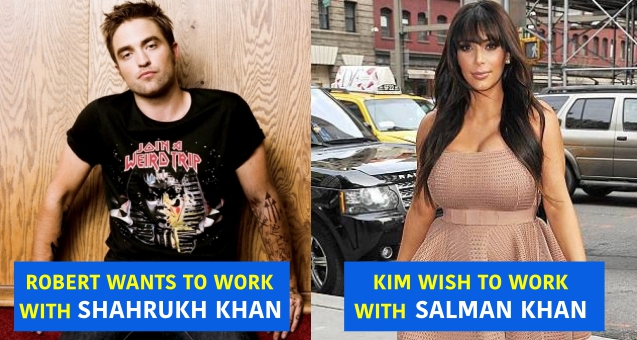 Hollywood industry is one of the biggest film industry in the world. The Hollywood films are full of action, drama, and entertainment. And their celebrities are too famous in the world. But nowadays Bollywood industry are getting more attraction and fame in the world. Our Bollywood celebrities are showing immense talent in the Hollywood. They are getting too much attention and media coverage. These celebs have managed to get more limelight thanks to their jaw-dropping performances and correct script choices in the Hollywood world.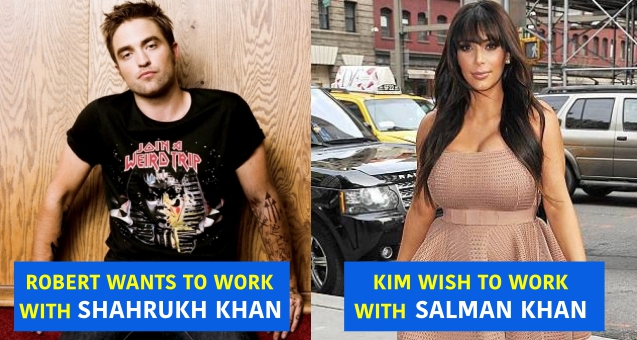 Right from Priyanka Chopra's role as Alex Parrish in 'Quantico', Amitabh Bachchan's stellar performance in 'The Great Gatsby', Anil Kapoor's incredible role in 'Mission: Impossible – Ghost Protocol', and Anupam Kher's award-winning film 'Silver Linings Playbook', these actors have proved their mettle abroad.
The craving for Bollywood stars is very evident and has reached the taste buds of top stars of Hollywood now. There are many actors and actresses there, who have expressed their desire to work with the Indian fraternity and are obviously huge fans of our global celebs.
So let's meet the Hollywood celebs who wish to rub shoulders with the Indian superstars.
Gerard Butler – Priyanka Chopra
When Scottish Hollywood actor Gerard Butler visited India in 2009, his fondness for Priyanka Chopra didn't go unnoticed.
Since he met our B-town superstar, he became her huge fan. If reports are to be believed, Gerard even sat on his knees and proposed Priyanka for marriage!
Daniel Radcliffe – Shah Rukh Khan
Daniel Radcliffe, best known as Harry of 'Harry Potter Series' is a big fan of Bollywood king Shah Rukh Khan.
The young actor has gone on record saying that "Shahrukh Khan is very famous in the UK, I am also his big fan, He is definitely an epitome of style and class".
Jean Claude Van Damme – Aishwarya Rai
Belgian actor Jean-Claude Van adores the 'bahu' of Bachchan family and that is Aishwarya Rai Bachchan. Aish's beauty and brains have not only won her beauty peageant and a great international appeal, but has bowled over many Hollywood stalwarts, and Jean is one of them.
The famous action hero whose super hits include Bloodsport, Kickboxer, Universal Soldier, Hard Target, and The Expendables 2, is a die-hard fan our this Indian beauty!
Sylvester Stallone – Salman Khan
When Hollywood star Sylvester Stallone was asked on Twitter who he'd like to work with, he mentioned our very own 'bhaijaan'!
Sylvester expressed saying," We should make an action film together." While Salman is busy with Race 3, the veteran Hollywood actor wished him for its success on his Twitter handle!
Tom Cruise – Sonam Kapoor
The famous Hollywood actor is a huge fan of Bollywood fashion icon Sonam Kapoor and according to the news, Tom himself had said that if he is cast in a Bollywood film, then he will not refuse to do so.
They would certainly make a hot pair!
Kristen Stewart – Hrithik Roshan
Hollywood actress Kristen Stewart, who is most famous as Bella Swan from the 'The Twilight Saga' series, had said that if she has a son, then she would like him to look like Hrithik Roshan!
Apart from this, Kristen also said that she desires to work with the Indian Greek God, as he's famously known as.
Kim Kardashian – Salman Khan
Hollywood's famous actor and reality TV star Kim Kardashian once said during an interview that, "I want to work with both Salman and Shahrukh. I am a big fan of Salman".
Robert Pattinson – Shah Rukh Khan
When the leading actor of popular movie series 'The Twilight Saga' was asked if he has seen any Hindi movie, Robert Pattinson rooted for Dilwale Dulhania Le Jayenge (DDLJ).
The famous Hollywood actor said, "Yes I have seen Dilwale Dulhania Le Jayenge. I think it was one of the best Hindi films." He also said that in Shahrukh, he sees different charm, and he is his favourite actor.