Bollywood and shaadis are undoubtedly the two lifelines of India which no Indian can exist without. And whenever there is an amalgamation of these two most loved industries of the nation, the end result is a blockbuster.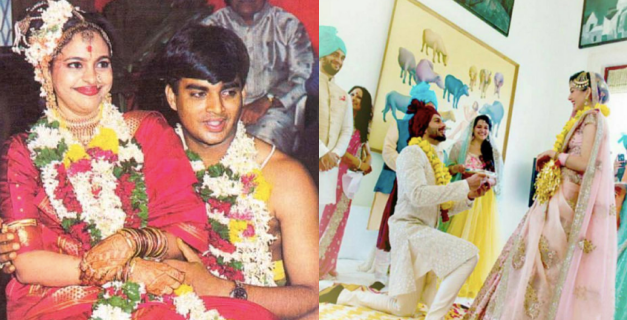 Be it a Bollywood movie on weddings or a real life wedding in Bollywood style. We just love every bit of it when such a thing happens.
Jimmy Shergill
Marriage picture of Jimmy Shergill who married his old friend Priyanka Puri in 2001.
Honey Singh
An unseen picture of Honey Singh's marriage who married his old friend Shalini Talwar Singh.
Shahid Kapoor
This was one of the most talked about event. Shahid Kapoor and Mira Rajput got married in traditional Punjabi style on July 7, 2015.
R Madhavan
R Madhavan's wedding picture. He married his old friend Sarita Birje in 1999.
Anil Kapoor
Anil's wedding picture with his wife Suneeta Bhavnani in 1984.
Rishi Kapoor
A picture from Rishi and Neetu's wedding. Rishi Kapoor and Neetu Singh got married in 1980.