There are few celebs who've managed to break all norms of religion and caste for their loved ones. Right from Bollywood celebrities, to sports personalities, the love story of these celebs is bound to inspire you to take a leap of faith and knit your very own story of love.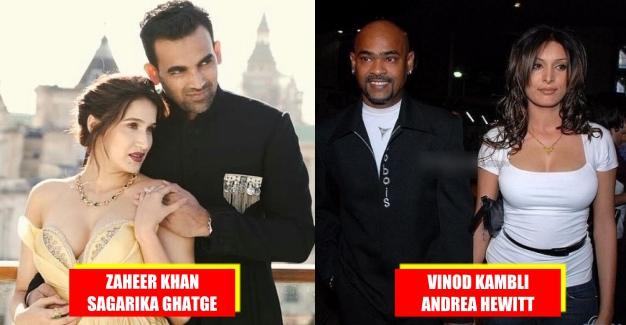 Zaheer Khan and Sagarika Ghatge
The best bowler Zaheer Khan of Indian cricket team, Zaheer Khan married Hindu actress Sagarika Ghatge.
Dinesh Karthik and Deepika Pallikal
After his separation with his first wife who is married to Murali Vijay now, Kartik eventually fell for squash star Deepika Pallikal and got married to her. While Dinesh belongs to the Hindu Telugu community, Dipika is a Christian. They both got married twice to go through the rituals of both sides.
Manoj Prabhakar and Farhane
Indian player Manoj married Farhane who is related to Bollywood and is a Muslim.
Saba Karim and Rashmi
Indian wicketkeeper Saba Karim has married Rashmi who belongs to the Hindu religion.
Ajit Agkar and Fatima
The Indian pacer found his love of life in a Shia girl observing Islam religion. Fatima Ghadhially the sister of Mumbai based first class cricketer Mazhar Ghadially, got married to Agarkar and is living happily with her son and husband in Worly.
Mohammed Kaif and Pooja Yadav
Known for his special fielding Mohammed Kaif married Pooja Yadav who is a journalist and is a Hindu by religion.
Mohammed Azharuddin and Sangeeta Bijlani
An array of rumors proved themselves to be true when then skipper of Indian cricket team Mohammad Azharuddin married model-turned-actress Sangita Bijlani. Azhar had a marriage prior to Sangeeta, whom he divorced and moved on with the actress who is a Hindu while the cricketer supports Islam.
Though it made much news, the marriage wasn't a fruitful one as the couple got separated after 9 years of their togetherness.
Nawab Pataudi and Sharmila Tagore
One of the most lavish marriage of their era might have been the one between Bollywood beauty sharmila Tagore and MAK Pataudi. Being the descendant of a royal family. Mansur was called the nawab of Pataudi and observed Islam religion while Sharmila was a Bengali Hindu girl.
But the difference did not quite affect the duo as the lady converted to Islam with the name Ayesha Sultana. They got married in the year 1967 after a long courtship and lived happily ever after with their children.
Vinod Kambli and Andrea Hewitt
Vinod Kambli and Andrea Hewitt are the most lavish marriage of their era might have been the most famous couples of all.
10. Wasim Akram and Shaniera
Pakistani cricketer wasim Akram, after losing his first wife married Christian beauty Shaniera  from Australia. The couple is happily married.
11. Mohammad Imran Tahir and Sumayya Dildar
South African cricketer Mohammad Imran Tahir who was born in Pakistan has married his Hindu girlfriend Sumayya Dildar.