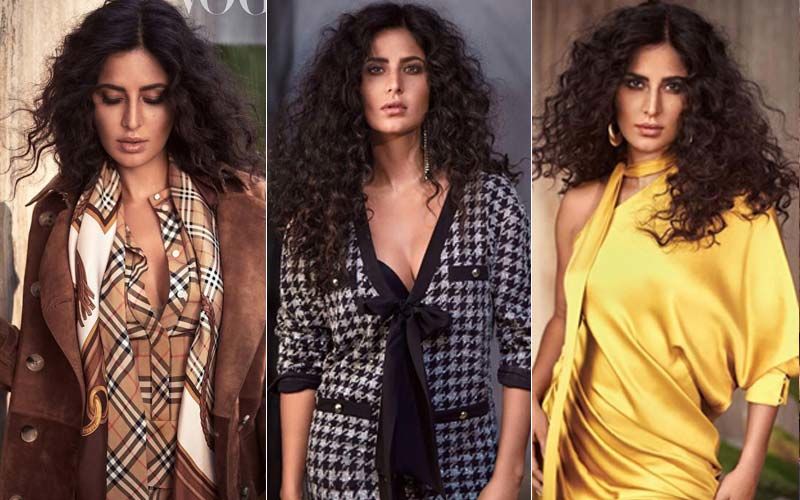 Katrina Kaif has game up her look in the latest cover of Vogue magazine. She look absolutely sassy in her latest photo-shoot. Her messy look and curly hairdo is leaving her fans in awe. Have a look on the series of pictures:
1.
2.
Actress got candid about her personal life post her breakup. "It's probably one of the first times in my life where I really had only myself to focus on. And when you focus on yourself, often, the first thing you realize is that you don't really know yourself. It's like a period of not knowing, a period of being uncomfortable because you're seeing yourself in your raw form without embellishments and then accepting that you don't really know who you are," said Katrina.
3. 4.
She further added saying that her breakup with Ranbir was a blessing as it gave her opportunity to explore other things about her life. Fitoor actress was quoted saying "I now see it as a blessing because I was able to recognize my patterns, thought processes and things that I had been so sure of my whole life. I could see them from a whole different perspective."
5. 6. 7.
On being asked does she hold any grudges or regrets, actress refused having any regrets saying that, "the single-most useless emotion on the planet. Whatever decision you make at that time in your life, it's the best decision you could have made at that moment. That's why you made it! Now, it's hindsight. Of what use is hindsight?"
On work front, Katrina is busy promoting her upcoming film 'Zero' which also stars Anushka Sharma and Shah Rukh Khan. Stay tuned with us for more Bollywood news and updates.