The 'Yeti', also referred to as the Abominable Snowman, believed to live in the Himalayas, Siberia, Central and East Asia. The Indian Army has said that its mountaineers have sighted giant footprints of the "Mythical beast Yeti."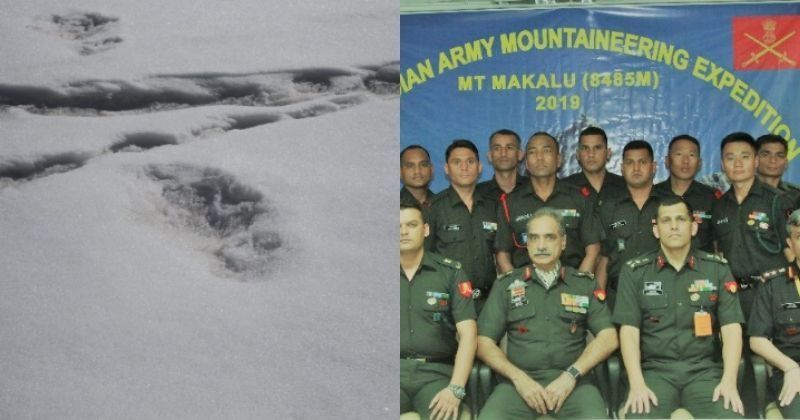 The army's additional directorate general of public information said its mountain expedition team had made the sighting near the Makalu base camp in eastern Nepal. The ADGPI posted photographs of the footprints, footsteps measured 2.6 feet. The average length of the foot step of an adult male human being is said to be around 2.5 feet. The photographs from the eastern region of Nepal feature giant footprints in the show.
For the first time, an Indian Army mountaineering expedition team has sited mysterious footprints of mythical beast 'Yeti' measuring 32 x 15 inches close to Makalu base camp.
Netizens can't keep calm, came up with hilarious memes:
Can you please search more? If any signs of Rambha & Urvashi as well? My every fantasy dream believe they exist too 😻😻

— Sarcasm™ (@SarcasticRofl) April 30, 2019
Wun Wun? pic.twitter.com/qYbFJyxQwr

— Chowkidar Ankur Singh (@iAnkurSingh) April 29, 2019
I always knew Tintin was right. He was the first to spot the mysterious beast Yeti. Time to re-read Tintin In Tibet pic.twitter.com/mEBdxhqTVx

— bhavatosh singh (@bhavatoshsingh) April 30, 2019
Too much monster Inc?? Snow Cones!!!? pic.twitter.com/Bndb0MkHY8

— JayegaToModiHi-DESHBHAKT (@The_Art_Goddess) April 30, 2019
Congratulations, we are always proud of you. salutes to the #IndianArmy Moutaineering Expedition Team. But please, you are Indian, dont call Yeti as beast. Show respect for them. If you say he is a 'snowman'.

— Chowkidar Tarun Vijay (@Tarunvijay) April 29, 2019
The tweet from the official handle of the Indian army boasting about sighting "yeti" and the reply in all seriousness by a former MP would have been extremely hilarious if not for how embarrassingly cringeworthy this is 🤦🏽‍♂️🤦🏽‍♂️🤦🏽‍♂️🤦🏽‍♂️🤦🏽‍♂️🤦🏽‍♂️ https://t.co/1koa0ZtgNI

— Stop the Gaustapo (@atlasdanced) April 29, 2019
Sir please refer to it as snowperson. It is possible that this could be the wife of the snowman, so we should not just assume the gender.

— Siddharth Singh (@siddharth3) April 29, 2019
Can there possibly be a simpler explanation? pic.twitter.com/fqIuV0Q9Ri

— Siddharth Singh (@siddharth3) April 29, 2019