Reviews
Writer-director JS Randhawa's film "10 Nahi 40" will make you emotional along with comic timing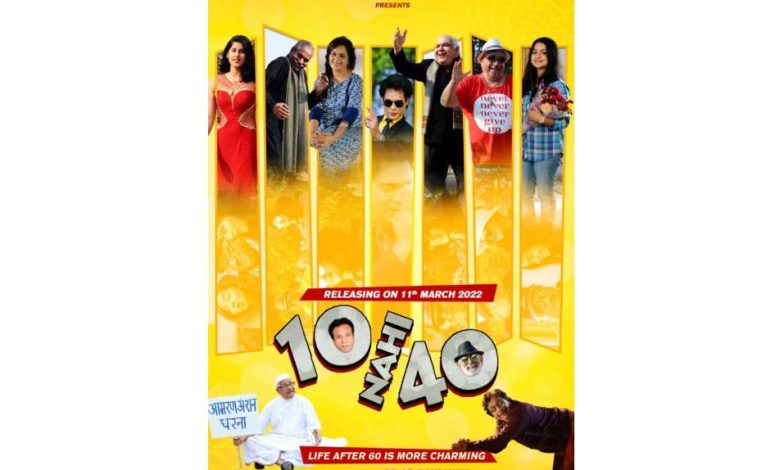 Movie Review : 10 Nahi 40
Cast: JS Randhawa, Sonal Mudgal, Ranjan Singh, Ramesh Goel, Birbal, Manmauji
Producer: Ranjan Singh, Sonal Randhawa
Writer Director; JS Randhawa
Rating; 3 stars
Many experimental films are being made in Bollywood these days, which have truth and also a message. Writer director JS Randhawa's Bollywood film 10 Nahi 40 is going to release in theaters on 11th March 2022. Many senior Bollywood actors Birbal, Manmauji, Ramesh Goyal and Manoj Bakshi will be seen in the film. Also JS Randhawa, Ashi Singh, Sonal Mudgal, Ranjan Singh will be seen in important roles.
The story of this film starts from a posh society in the city where the main character of the film Sumit is very much irritated with the elders living around him and at times gets entangled by arguing with them, while on the other side there is Sumit's sister-in-law Ashi Loves the elderly members very much and takes great care of the senior citizens of the colony. She is always ready for the welfare of the Senior Citizens. The story takes an interesting turn when Ashi decides to change Sumit's behaviour. Along with changing Sumit's behaviour, the two together decide to start a day care center for the seniors of the society. The special thing about this film is that there are many comedy scenes in it, while many emotional dialogues will fill your eyes with tears.
Senior Bollywood actors Birbal and Manmauji will be seen together after a long gap in the film '10 No 40′.
You can call this movie as slice of life drama and comedy movie. The film '10 Nahi 40′ is actually a mixture of drama and comedy. The film is equally relevant for senior citizens as well as for middle aged and young audiences. Senior citizens are suffering from the problem shown in this film. So the audience will be able to easily connect their life with its story. If seen, this film depicts the challenges of the senior citizens and the pain of loneliness that people have to face one day or the other. This film shows in a very positive way how one can be happy even in those lonely moments of life.
Writer director JS Randhawa has shown the magic of his direction. The film has become worth watching.