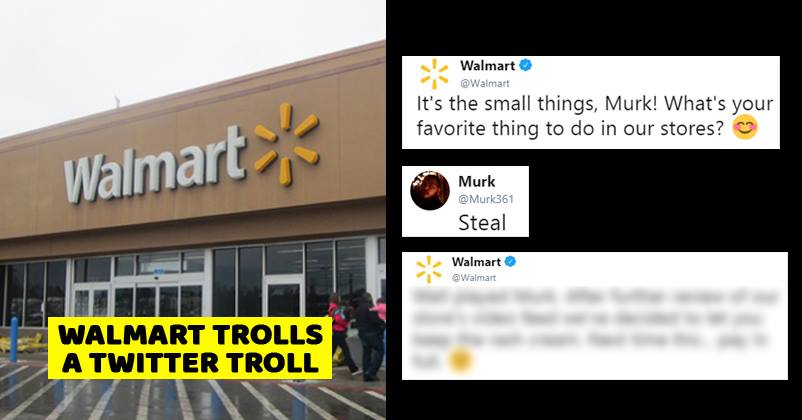 Nowadays, social media is the best place to refresh your mood whenever you are feeling low. It has everything from humour to latest news to spectacular and hilarious memes. It is also a platform that allows anyone to voice their opinion. If the opinion is interesting, people start talking about it.
After using social media so passionately, I thought I have seen everything. From trolling celebrity to top brands, social media is the best place to get yourself heard in the best way possible. Every now and then, we have seen top brands like Flipkart, Amazon and Airtel getting mocked on Twitter for multiple reasons.
This time, a Twitter user tried to mock popular international retail brand Walmart. However, he never would have expected the reply he got from Walmart.
It all started when a Twitter user named Murk (@Murk361) tweeted, "I Like Going To Walmart For Fun"
He didn't tag Walmart in his tweet, but he got a reply from Walmart anyway. In reply, Walmart wrote, "It's the small things, Murk! What's your favorite thing to do in our stores? "
After this reply, the guy tried to be smart and replied, "Steal".
However, the best reply came from Walmart. Walmart replied, "Well played Murk. After further review of our store's video feed we've decided to let you keep the rash cream. Next time tho… pay in full. "
This fun-chat has Twitter talking. Check out how they reacted right here.
https://twitter.com/pvtrisiv/status/1009626870797815813
Boiiiii pic.twitter.com/bfGvetU30t

— Huncho Jack 🛫🌏🤘🏽 (@JuaanFloress) June 21, 2018
Perfect! Hahaha

— Arual Savid (@ArualSavid) June 23, 2018
— Tyler 🖖👽 (@tsawinski623) June 21, 2018
https://twitter.com/jojo_baby18/status/1009660880861237249
— 𝕞𝕚𝕔𝕙𝕚𝕜𝕠 (@__lemongrab) June 21, 2018
Well played Walmart. Well played. pic.twitter.com/D746R7KeXM

— Pҽƚƚყ LαBҽʅʅҽ (@ShokiShortStuff) June 21, 2018
When @Walmart has a better sense of humor than expected pic.twitter.com/3x66rRdS6X

— Pain (@BRG_Pain) June 21, 2018
That's epic!
What do you think? Tell us your thoughts in the comment section down below. Stay tuned to this space for more viral stories.