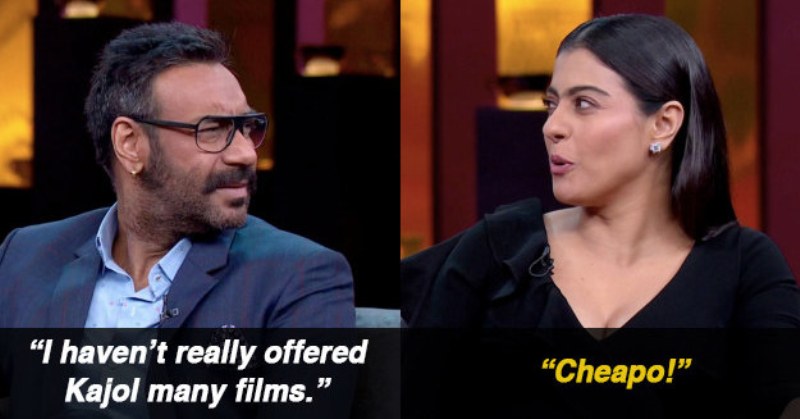 Hosted by Karan Johar, Koffee With Karan is one of the most popular and controversial talk-shows in Indian telly.  Top Bollywood stars grace the couch and talk about their personal life that often makes headlines. The latest episode featured superstar couple Ajay Devgn and Kajol. Both of them talked about their careers, marriage, and kids.
After watching the episode, we think that Ajay Devgn and Kajol are the most secure celebrity couple we have ever seen. The episode was filled with lots of laughter and some amazing tidbits. Scroll down and check out the highlights of the latest KWK episode.
1. When Kajol called her husband lazy on national television.
2. When their verbal nok-jhok revealed the dynamics they share in their personal life.
3. When Ajay Devgn disapproves Instagram antics of both his daughter as well as his wife.
4. When Ajay Devgn talks about why their marriage works perfectly but failed to get any brownie points for the perfect husband.
5. When Karan and Ajay both made fun of cheap lifestyle of Kajol much to her dismay.
6. When Karan Johar tried to understand the importance of usefulness over the luxury.
7. When Ajay Devgn explained how he takes advantage of Kajol's low maintenance nature.
8. When their conversation turned to professional from personal.
9. When Kajol honestly described her past co-star.
10. When Kajol named the biggest gossip mongers of Bollywood industry.
11. Kajol failed to understand the importance of the fitness bug that has bitten B-Town stars. 
12. When Ajay Devgn gave the best reply to Karan's question about superstitions.
13. When Karan stopped Kajol from mouthing a bad word on national TV, all thanks to Ajay.
14. When Ajay got too much involved in the rapid fire round.
15. When Ajay stated obvious, we all agree.
16. When Ajay forget his wedding anniversary leaving Kajol fuming.
That's all, folks!
Tell us your thoughts in the comment section down below.