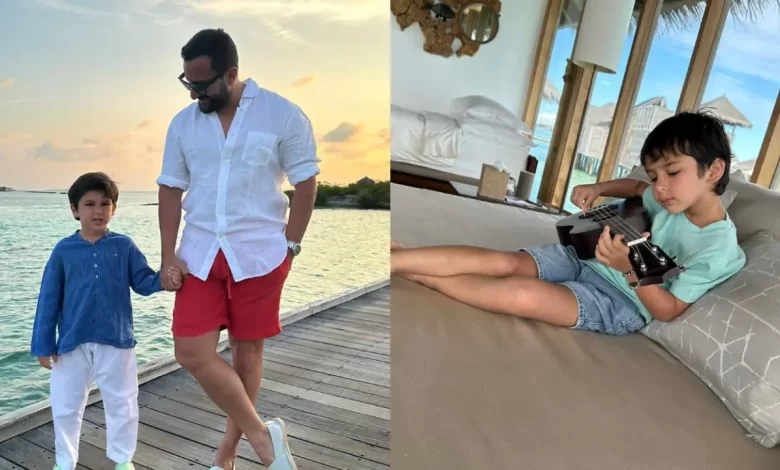 Key takeaways:
Today is Kareena Kapoor Khan and Saif Ali Khan's child Taimur Ali Khan's birthday, and the internet is buzzing with wishes for the little baby.
Kareena Kapoor Khan is a queen, and there is no refuting this fact. But if there is anyone who can rob her spotlight, then it has to be both her kids, Taimur Ali Khan and Jehangir Ali Khan.
Today is Taimur's birthday, and the internet is buzzing with wishes for the little baby.
Best out of waste
Kareena Kapoor Khan took to her Social Media account to drop a cute video of Saif Ali Khan and Taimur. The father-son pair were bonding over a school assignment where the star helped his kid make a staggering rock band stage out of waste.
Eid Mubarak!
The whole Pataudi family came together to mark Eid. This picture-perfect point has Saif and his kids near him with his wifey and sisters. Tim appears to be in a gloomy mood, while Saif seems to be holding him.
Same father-son
This is one of the funniest photos of the Pataudi. Tim can be spotted with his fingers in his nose while Saif carries him as he poses with Kareena and Jeh.
Ice-cream photo
Taimur looks genuinely excited as he consumes his ice cream while Saif is trying to click a photo.
Lying on bed
When neither of her boys was willing, Kareena seemed to have photoed this photograph. Saif and Taimur are on the mattress while Saif is in the middle of his breakfast, and Tim appears to be drawing something.
Pray time
In this sweet picture, Saif and Taimur pose in front of the house temple with folded hands.
Yoga Time
Saif and Taimur are involved in yoga together, and we love seeing the father-son pair stay fit and healthy.